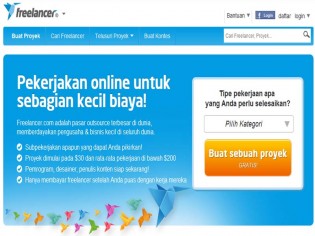 Today laborers across Indonesia are on strike to fight for their working rights. On the same day, Freelancer.com has opened an opportunity for the workforce in Indonesia to create their own workspace online. Freelancer.com is an outsourcing and crowdsourcing platform for small and medium-sized enterprises (SMEs). Here, SMEs could meet freelancers to do jobs that they need. Now Freelancer.co.id is launched with Indonesian language features and support for the local currency, the Rupiah. It hopes to empower entrepreneurship in Indonesia, making it easier, for example, for startups to find designers or coders.
Why is Freelancer targeting Indonesia? This country only contributes 1.5 percent of its four million total users. But the workforce in Indonesia has great potential – because, around 22 percent of the Indonesian population uses the internet.
The vice president of growth for Freelancer.com, Willis Halim, who was born and raised in Indonesia, believes Indonesia is a land where SMEs can grow. The internet should not only be used for Facebook, he says, but also to raise the nation's economic status. Willis added:
We provide a global labor exchange. We provide the productivity to assist those with a spark of an idea to turn into reality. E-commerce is not just for goods, but it can also be for services. In emerging economies, we empower entrepreneurs to start service organizations.
For its Indonesian version, Freelancer supports Indonesian on its site and for its customer service. It has also established a local team with a regional manager. As for payments, freelancers can bid on projects starting from Rp300,000, which is around the same amount as on the global site: $30.
Before the launch, Freelancer collected success stories from its Indonesian users. One of them is Daniel Pratidya from Jakarta, who has used the international version of Freelancer.com since September, 2011. He worked for additional income for his family as he raised four children. He tried using Freelancer and started off with the low payment of $2 to bid a project. It was only to raise his reputation and reviews for his profile. At first, he says it was hard to win a bid for a project. Now he frequently earns money via Freelancer. He also managed to pay his debts. Daniel said:
There is a lot of opportunity for businessmen in this site. Through Freelancer.com, I changed from a freelancer to an entrepreneur to solve my financial problems.
As for a payment solution, Freelancer is now working to build partnerships with local banks. For now, it's just HSBC which supports wire transfers for Freelancer in Indonesia. Other methods are still the same as the global site, like Paypal and credit cards. Freelancer is also considering local payment methods such as KasPay from Kaskus.