Since setting its eye on Indonesia in October, Australia-based global outsourcing online marketplace Freelancer now has more than 100,000 Indonesian users. Besides business, Indonesia country manager Helma Kusuma told us that Freelancer also has the noble goal of spurring entrepreneurship growth through the act of doing freelance jobs. And to help inspire more Indonesians to take part in the freelancing and entrepreneurship industries, the company is holding a contest which lets Indonesian people share their inspirational stories about the two professions.
The competition's name is "I Am Brave. I Am Free. I Am Freelancer.co.id." To participate in the contest, you must be a Freelancer member as well as a fan and follower of the company's Indonesian social pages. Participants need to write their stories on a blog, and then put the story link as well as their Freelancer username on the competition's photo page here. The competition promises an iPad Mini for the main winner and IDR 1 million (US$103) for each of the two other finalists.
The deadline for entries is March 10th. You can find more information about the competition here.
Inspiring entrepreneurship in Indonesia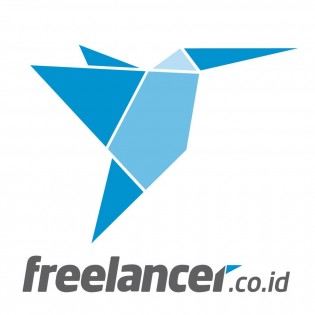 So what's the relationship between freelancing and entrepreneurship? A lot, says Helma. As a former fellow freelancer and entrepreneur herself, she believes that the habit of taking freelance jobs will encourage people to open their own businesses some day. She said that taking a freelance job introduces the idea of being "free" when doing a job. This idea includes having the luxury to choose which clients you want to take, and what working time suits you best. And when you've tasted that freedom, you want to taste it again.
Helma said that around 90 percent of the job offers on Freelancer come from developed countries – the UK, the US, and Australia are the top three employer countries. Most of the freelancers come from developing countries like the Philippines and Bangladesh. Hence, the money offered for the listed jobs there is quite significant for people living in Indonesia.
She then explained that these people will eventually start seeing more income from their side jobs, and start to think that they could actually freelance more often to make a living.Eventually they will receive so many freelance jobs that they can transition into starting their own company and give those jobs to their subordinates. This has happened to a lot of Freelancer users over the years.
And even if not so many people have come so far as opening their own businesses, a lot of them have felt the benefits of working freelance jobs anyway. Helma shared the story of one Indonesian Freelancer member who needed extra income for marriage. The guy found the answer by taking jobs from Freelancer and from there, he managed to earn enough money to stage his dream marriage. Helma also told us about a guy with four children ridden with huge debts. In desperation, the guy started to look for freelance jobs and in the end managed to pay back all the debt. Both of them may not have started their own companies, but their stories have touched and inspired a lot of people to start taking freelance jobs too.
Standing Out from the Herd
Some people, including myself, might wonder "How can I compete with the other seven million members to get a job from Freelancer?" It must be challenging to earn your first job there as you need to compete with the other users, including those who are more experienced and have a better reputation inside the system. Surely employers will prefer to choose them rather than a first-timer?
Helma explained that there will always be a chance for everyone at Freelancer. She paraphrased a few tips from Daniel Pratidya, one of the top Freelancer users:
First, make sure your profile looks great and credible, complete with pictures and past works so that potential employers can trust you better.
Second, because you are new-comers, your first priority is not to make money, but to build your reputation inside Freelancer, so you are advised to bid with the smallest fee for your first projects. After you have good reputation, then you can start raising your fee. This puts you in an advantage because reputable and experienced users would definitely be more expensive than the first comers, they would also choose more complicated and high earning projects too. So you won't necessarily be competing with the top dogs for simple projects.
Third, and this tip I find very interesting, is to offer a sample of your works to potential employers. For example, if the employer needs translation jobs for a 20-page document, then you might want to offer to translate two of those pages for free to show how good you are with what you are doing. This last one takes some effort, but it will make you more recognized among other the companies on the platform.
And after you've taken up some jobs and have built up your reputation. It'll then be much easier to receive more jobs and command higher fees from them.
You can read more tips from Daniel on his blog.
Helma says that there are other Indonesians besides Daniel who are among the company's top 30 users. One of them is Indonesia's Edward Sutrisno who managed to earn $15,000 for designing Freelancer's current logo. And the number one Indonesian user (who she cannot disclose) now earns around IDR 1 billion ($ 103,000) a year from Freelancer's jobs. So Indonesians are not only on par with the rest of the world when it comes to skills, but can also be among the best.
English is almost compulsory
So far I haven't found a direct competitor to Freelancer's services in Indonesia. There are a few which might be construed as competitors like crowdsourcing design marketplace Sribu, but that is only for the design sector. The jobs and contests Freelancer offers cover more than the design sector. The top two jobs on the site are for IT and content writing.
The biggest challenge the company might face in Indonesia is the language barrier. As mentioned earlier, most of the jobs come from English speaking employers from first-world countries. And while the job information will be translated into the Indonesian language by the Freelancer team to help local users understand the task, the users will still need to communicate with the foreigners themselves later on. Having bad English can be a problem then.
Furthermore, users will also need to create credible profile information to attract employers better. And they will need to make their profiles in English. From my experience living in the capital city of Jakarta for more than two decades, only those lucky enough to study at a good (and sometimes expensive) school would have good English fluency, and those people are not the majority in the country. So while there will be a lot of users that can use the site's services, only few of them can actually gain the maximum benefit and get jobs from it.
Collaborations are welcomed
Apart from all that, I still find Freelancer's business and goals very interesting. While the service mostly caters to the smart people, it can still encourage those smart people to pursue entrepreneurship later on, and the country does need more entrepreneurs. According to a study last year, only 17 percent of tens of thousands of new college graduates are interested in becoming entrepreneurs. And so far, only 1.56 percent of the country's population are entrepreneurs. That number looks especially bad when compared with neighboring Malaysia's rate of 5 percent or Singapore's 7 percent.
Helma said that the local startup community's founders are a testament to the relationship between the freelance profession and entrepreneurship. She mentioned that StartupLokal's initiators Natali Ardianto and Aulia Halimatussadiah as well as Bandung tech community FOWAB initiator Anggi Krisna took freelance jobs before they built their own respective startups. Anggi in particular was among those who took freelance work from Freelancer 1.
Helma said that the local startup community's founders are a testament to Freelancer's success in encouraging entrepreneurship. She mentioned that StartupLokal's initiators Natali Ardianto and Aulia Halimatussadiah were among Freelancer's members before they both built their own respective startups.
She said that the company will have an office in Indonesia when the site achieves the 500,000 member mark in Indonesia. This will probably be achieved next year. For the moment, she welcomes potential collaborations from Indonesian communities which have the same vision of encouraging entrepreneurship in the country. The company also plans to build an Indonesian blog in the near future.
---
The paragraph was updated to clarify that the mentioned initiators and entrepreneurs were indeed freelancers before starting their own businesses. But there is no data of Natali and Aulia were part of Freelancer's members.