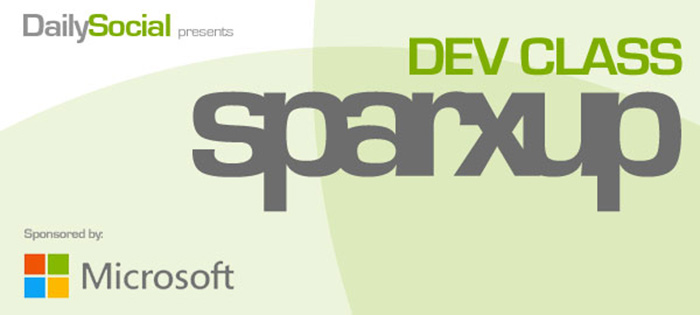 (Updated on March 14th: The winners for the five free tickets to DevClass are Victoria Adhitya, Khemera Douk, Amrit Samtani, Rio Nurtantyana, and Adhi Wicaksono. Congrats guys! You can directly go to DevClass on March 20th.)
DailySocial, an Indonesian tech startup blog, is going to hold its first Sparxup Series event next week called Dev Class. The class is going to talk about three things founders and CTOs need to pay attention to when running their startups: product management 101, SEO/SEM and internet marketing, and basic UI/UX for web and mobile platforms. Three Indonesian founders will elaborate on each topic.
Razi Thalib, co-founder of online matchmaking service Setipe and former VP of digital product and online marketing at Zalora Indonesia, will talk about how to plan, forecast, and market a product. "This is something a lot of founders ignore, but founders should know about the business, technology and user experience side of a product based on the product vision," says DailySocial founder Rama Mamuaya.
Ridho Putradi, co-founder of Inbound marketing agency InboundID, will explain how entrepreneurs can optimize SEO to attract more organic visitors. He will also talk about some search engine and internet marketing basics in this session.
Richard Fang, co-founder of design and tech studio Weekend Inc, will share his insights about great UI/UX for web and mobile. You can expect to see various UI/UX case studies from this session.
Mamuaya explains more about the Sparxup Series:
We have a few series soon to be announced (we're still cooking), but in general we're aiming at the exact things that everyone in the ecosystem needs. I mean events like Sparxup Awards and Startup Asia are cool, but at the end we haven't seen a significant impact for the end users of the ecosystem. That's why we came up with the Sparxup Series.
Details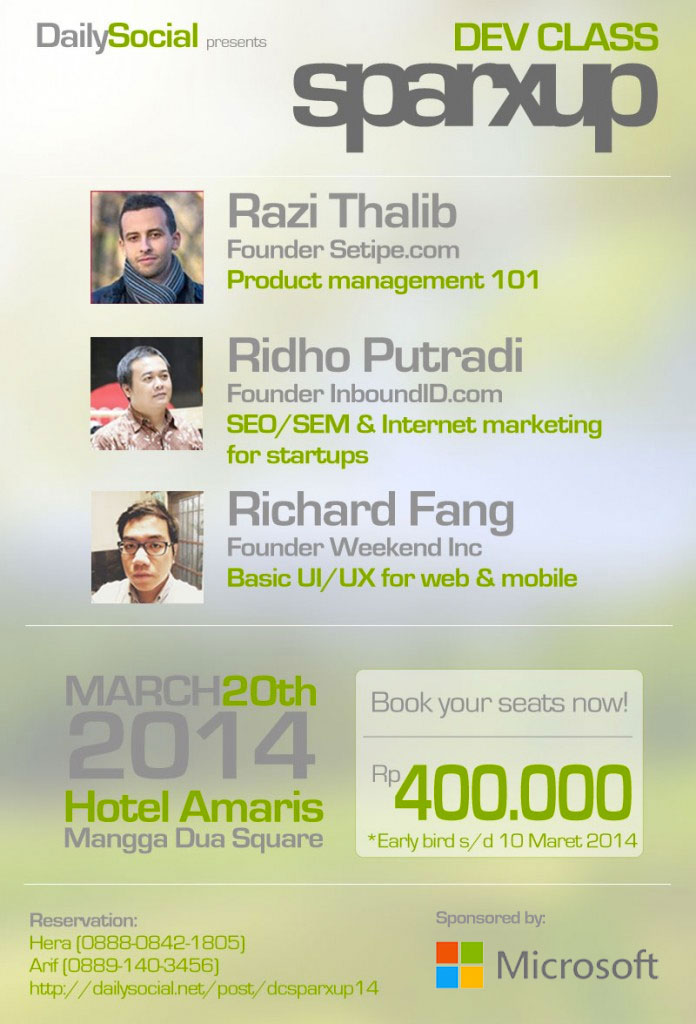 Dev Class is open to the public:
Date and time: March 20th (Thursday), 9am to 6pm.
Venue: Amaris Hotel, Mangga Dua Square, Jakarta.
Price: IDR 550,000 ($48) per person
You can find more information about the event here. And you can sign up here.
Free tickets
For eager learners out there who are short on cash, fret not because we will be giving out five free tickets to the Dev Class!
It's simple, just tell us a good reason why you should get the free tickets in the comments section below. We will close the contest on Friday, March 14 at 2pm and announce the winners at 6pm on the same day.
May the odds be ever in your favor.
(Editing by Paul Bischoff)