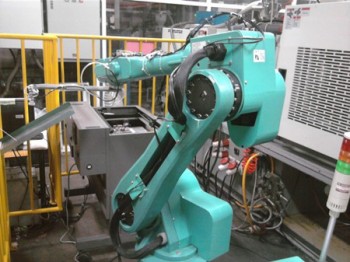 Humans suck, with their continual, nagging demands for things like water, shelter, and wages. That's why the Taiwanese manufacturer Foxconn (LSE:HHPD; HKEX:2038; TPE:2354) has been aiming to replace some of its workers with one million robots by 2014. But that plan seems to be very seriously behind schedule, with a source telling a China Radio finance reporter that only five percent of the planned robot workforce of 300,000 for 2012 has even been built.
That amounts to just 15,000 robot manufacturing units being ready for action by the end of this year, casting serious doubt on the ability of Foxconn – which does final assembly for the likes of Apple, Amazon, and HP – to hit its target of one million automatons being put into action by 2014.
Foxconn has said that robots will only replace a fraction of its huge human workforce, doing the most repetitive aspects of final assembly on things like iPads, iPhones, and Kindles. But there are cost factors involved too; as China's cities get more expensive, basic wages in the manufacturing sector are rising in line with the nation's minimum wage levels, which look set to hit 1,700 RMB ($268) per month in southern China's Guangdong province in 2013. That's close to double the rate a couple of years back.
As we noted in January of this year, some robots have been put to work at Foxconn plants in mainland China, but it's not clear how large a number that represents.
Foxconn gets a great deal of scrutiny owing to its partnership with Apple – some would say to the detriment of media coverage of working conditions at other manufacturers in China.
[Source: China Radio – article in Chinese]