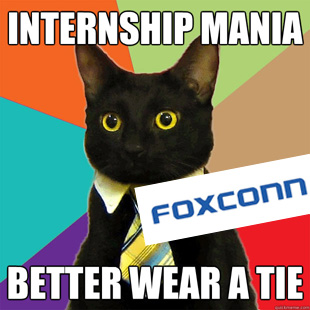 Foxconn is a well-known company for many reasons. But it's not necessary a company where students would like to do their internship. A report from Micgadget wrote that students from Xi'an Technological University don't really have a choice. All students who enrolled from 2010 must take up an internship role at Foxconn as part of the school's curriculum. Note that we aren't sure exactly what kind of work they will be doing, but hopefully it is something they can learn from rather than just a seat on the assembly line.
But hey, at least it's still an experience, though whether it's a good or bad is up to the individual perhaps. For any Apple fanboy, it sounds like an interesting way to get a behind-the-scenes look at how iPads and iPhone are made. Though not giving students the choice to pick their internship role at their preferred company appears kind of insane to me (just like the compulsory two-year National Service for all males in here in Singapore). Thinking back on that, this Foxconn internship doesn't seem like too bad a deal!
The monthly pay as a Foxconn intern is about $240 which, depending on your perspective, may or may not be ok. In the U.S, many companies don't pay interns for their work. Here in China, Foxconn's move could be seen as a source of cheap labor. The internship lasts about two months which is not too long, thankfully. If anything, not giving students the choice is perhaps the only issue here.
[Source: HSW via Micgadget]