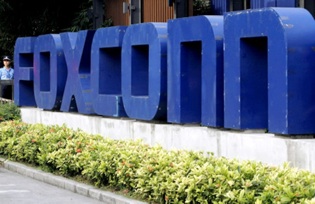 The contract gadget maker Foxconn, which does the final manufacturing on all iPads and iPhones, and numerous other company's devices, reportedly might double its Chinese factory worker's wages by 2013.
The move would see Foxconn's (LSE:HHPD; HKEX:2038; TPE:2354) base factory wage in mainland China go from the current 2,200 RMB, up to 4,400 RMB (US$693) per month. Presumably there'd still be the potential to add more by doing overtime. Back in the autumn of 2010, the entry-level salary was upped to 2.000 RMB per month from just 1,200 RMB, and before that was a mere 900 RMB. The higher rate would put the mainland worker's wages more in line with those in more prosperous Taiwan, from where Foxconn and parent company Honhai originate.
Reports are basing this on words allegedly uttered by company chairman Terry Gou, according to the original source, the Taiwan Business Weekly. Nothing has yet been confirmed by the Taiwanese gadget maker. It might need to comment – perhaps to deny it – later today, or else spook investors.
Foxconn nearly doubled its local base salary in October 2010 – from 1,200 to 2,000 RMB – after a spate of worker suicides brought global scrutiny upon a once obscure OEM. Further incidents and catastrophes since then – such as plant explosions, and toxic leaks – have kept it in the media spotlight.
A doubling of the wage, if it transpires next year, would be alarming for other manufacturers in their battle to retain workers in such repetitive factory-floor work. But money in itself is no panacea, as Foxconn's Shenzhen workers discovered to their cost earlier this year when greedy local landlords arbitrarily raised rental rental fees in the city so as to squeeze more cash for their Foxconn tenants. Some Foxconn workers who are migrants from China's rural areas instead opt to stay in company dorms, which are cheaper.
[Source: iFeng Tech – article in Chinese]