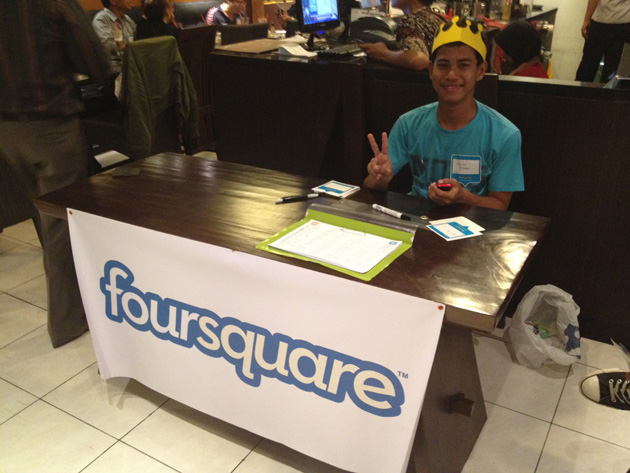 I'm loving it here in Jakarta. And I'm also sort of addicted to crashing all types of random networking events and meeting different people from all walks of life. It is mostly still within the tech circles though. But not quite today, which is Foursquare day, April 16. A day that celebrates the Foursquare service, check-ins, and badge earning (I think). Never mind about the objectives of Foursquare day. To the many Foursquare Indonesian users here, having fun is what really matters. The cafe that hosted the Foursquare day is jammed packed. There are more than 200+ people on both levels. It is warm and stuffy.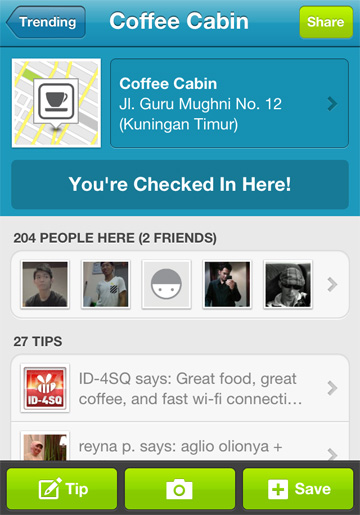 Nonetheless, all is good. As people wiped the sweat from their brows, they were also cheering and celebrating. There were quizzes and giveaways on the second level while the first level focused more on networking. The atmosphere was good. Seeing folks pulling out their phones claiming the Foursquare day badge was common.
It is extremely social here in Indonesia. Everyone treats you like part of the family. It was quite an honor. Indonesian Foursquare users at the event even welcomed me to their homely city with high-fives and conducted an impromptu interview of sorts to find out why we are here.
It was great, an atmosphere that really bonds Foursquare users today. There were no business cards exchanges. It felt weird to pull out one, I thought. So talk between the participants were purely conversational. As we walked out sweaty and sticky, people were smiling and waving goodbyes. It was a good Foursquare day at Jakarta and surely one to remember for the many loyal Foursquare users who participated.