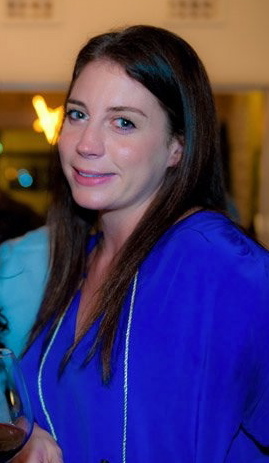 In our latest post featuring female entrepreneurs in the region we have Alexis Horowitz-Burdick, founder and CEO of cosmetics e-tailer Luxola. She talks about how she unwinds with a glass of wine after a long day at work; the tenacity and mindset needed to roll with the ups and downs while building a startup; and how women around her are usually the ones who inspire her the most.
Alexis will also be on our panel discussion on female entrepreneurship at the upcoming Startup Asia 2013, along with some other awesome panelists that we've featured before in this series: Aileen Sim, Meri Rosich, Gina Romero, and Carmen Benitez. Be sure not to miss out on that.
But first we wanted to find out before about Alexis as a person and an entrepreneur:
Tell me a little about yourself.
Alexis: I'm originally from Boulder Colorado, USA. I have been in Asia for more than five years. I originally moved here with a Washington DC-based consulting firm called Frontier Strategy Group, where I had the opportunity to start the Asia business based in Singapore for them. I love it here and haven't been able to leave since!
What does your startup do, and what is your role?
Alexis: Luxola is the leading e-commerce platform for skincare and cosmetics in Southeast Asia (SEA). I am the founder and CEO. My daily work varies widely but I am always working on the strategic goals of the business and am heavily involved in brand acquisition, sales, marketing, and operations.
How and why did you get started in this industry?
Alexis: This is my third startup and the second one I have founded. I really fell in love with the e-commerce space and knew that I wanted to create a platform that focused on customer service and product selection as its differentiators instead of price. I knew the beauty industry somewhat from my consulting days and saw that there was a lack of platforms in SEA that were above board (meaning, not gray or black market imports) for brands to work with.
Simultaneously, we did a lot of market research with potential customers and discovered there is a huge demand for many brands which were not yet available in SEA. We wanted to create something where we can work with brands to ensure their brand equity is protected, while simultaneously creating a shopping platform that had a great selection of brands, was easy to use, educational, and inspiring for women.
Why did you choose to move to Singapore?
Alexis: Originally the consulting company I was with decided this would be our HQ for Asia, so I didn't really have a choice. But once I was here I just really fell in love with the country. From the perspective of starting and running your own business, the ease of doing it in Singapore and the support of the entire eco-system around is just above and beyond any other country in SEA.
Did you face any challenges in particular?
Alexis: Of course! I have faced a million challenges. I think everyone starting companies does, but I would say the biggest ones have been finding/hiring the right people, we have been very fortunate so far in that area but not without a ton of effort and some mistakes along the way.
How do you hire right?
Alexis:It definitely takes time and effort and I make it a priority. I will stop at nothing to find the right people, I'll stalk you on Linkedin, find you at a conference, or call your company – watch out! People are the key to any business, I'm not good at everything and I'm well aware of that so I'm always looking for the next fantastic hire.
How do you seek out relevant mentors and people for help, especially in a foreign country?
Alexis: I think Singapore has a fantastic ecosystem for entrepreneurs. If I want to talk to someone specific, I just reach out to them and very rarely is someone not willing to spend at least a few minutes speaking with you. I find it to be a very open place for the most part.
What were the sacrifices you've made in the pursuit of this move?
Alexis: Starting a company is a huge sacrifice, it takes a toll on your life everywhere else. You don't make as much money – immediately anyway – as you would in a regular job. You are constantly working, you are always concerned about your employees and investors, and you don't have enough time to spend with friends and family. I think the key is to surround yourself with great people who understand what you are going through and support you through the tough times.
Do you think your gender has played a role in helping you gain an advantage over your male counterparts? Things like soft skills, personal touch, attention to detail, etc. Or has it been a disadvantage in any way?
Alexis: I don't tend to think of gender much in my position. Of course being in the beauty business I feel I identify a bit more than a man would with my customers, but we have a lot of great guys on our team as well so I'm not sure even that is true! I think entrepreneurs are successful more because of traits they have in common, not so much their gender.
In your opinion, what are the necessary skill-sets and attitudes required to succeed in the technology and startup industry?
Alexis: Tenacity and the ability to roll with the highs and lows. You face a ton of setbacks in a startup and if you let them get you down you get worn down very quickly, you just have to pick yourself up, learn from the problem, and move on. It's really a grind but if you can push through it and learn to celebrate the little wins than I think you are in a good position to survive.
Are you married/attached at the moment? How do you strike that work-life balance?
Alexis: I have a wonderful boyfriend who doesn't mind me working all day/night/weekend. I'm pretty sure he wants to throw my computer and phone off our balcony but he understands that this is the most important part of my life at the moment, and I'm lucky that way. I try to find time to relax with friends. I find wine a great anti-dote to overworking.
Do you have any female role models that you look up to?
Alexis: Tons! I look up to women from all different walks of life. Hillary Clinton is amazing, Natalie Massanet who founded Net-a-Porter is a huge inspiration to me, what she has done to combine commerce and media is really something Luxola aspires to. I look at women everywhere for inspiration, I think the women who surround you are usually the most inspirational in the moment – people like my mom, coworkers, and peers.
Do you have any advice for fellow female entrepreneurs?
Alexis: Be tough, in every way.
(Also read: Luxola Founder Talks About Her Journey As An Entrepreneur)
---
This is part of Tech in Asia's series on female entrepreneurship.
---
As mentioned, Alexis will be speaking at Startup Asia Singapore 2013 in our Female Entrepreneurs in Asia discussion panel on April 5, 3.15 to 4.00pm. (The full event is April 4 and 5).
And of course, don't miss any of the other speakers at Startup Asia Singapore 2013 either. That list includes:
Kee Lock Chua, (Group President and CEO at Vertex Venture)
Shin Hasegawa, (Director at Rakuten Global Marketing Office)
Ole Ruch (Managing director APAC at Airbnb)
Steve Melhuish (Co-founder at PropertyGuru)
Moo Natavudh (President Director at OOKBEE)
Ming Shen (Co-founder at Nuffnang)
See you guys there!