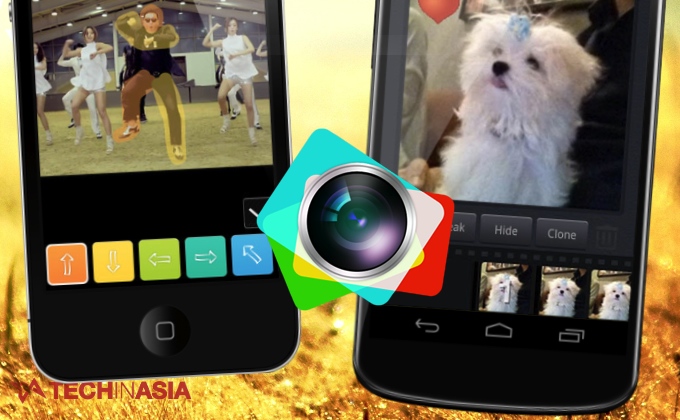 Now that animated GIFs are all over the place – even in news articles – it should be no surprise that one early GIF-making app is doing well. The Chinese startup behind FotoRus app (called WanTu in Chinese) tells us that it has so far seen 20 million downloads worldwide across its iPhone and Android app – that's since it first came out on iOS back in September of last year.
FotoRus, which supports English and Chinese, now has 10 million monthly users (and 1.5 million daily), who have created a total of 400 million GIFs and photos. The startup explains that it's mainly seeing traction in mainland China, Hong Kong, Taiwan, Thailand, the US, and Japan.
The app has matured beyond just GIFs, and now also features things like Instagram-style photo filters, and templates for a photo-within-a-photo (pictured below). The newest FotoRus thing is the animegram, which is a way to animate a single photo by drawing on it or distorting it in some fun way; the end result is a short video, not a GIF file [1]. So far that's available only on the updated iPhone version, but we're told that the Android FotoRus app will get animegram support by the end of December. But with 80 percent of the app's users on iPhone, it's understandable that they want to roll it out first for Apple's platform.
As for the startup itself, FotoRus' Hua Xue explains that they've had some seed funding, but are generating "very little revenue from mobile advertising." They're currently contemplating in-app purchases for some extra items – like additional pic-in-pic templates – but have not yet rolled that out. They make other apps too, like Fotoable, which costs $1.99 and is a neat way to better organize your photos than Apple's own albums app.
The startup can perhaps learn some lessons from the young team behind the Chinese-made Camera360, which has also seen huge global success with its photo and video apps. Indeed, FotoRus has recently added things like cloud backups for your images, so it's branching out into a broader platform as well.