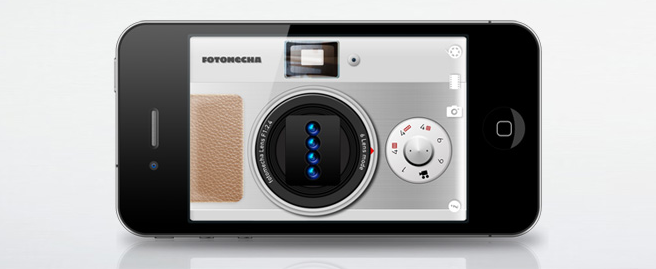 In addition to whatever fun presents Santa brought you this year, there are more than a few mobile app goodies to be had this season as well. There's Apple's 12 Days of Christmas app which gives you a freebie each day during the holidays [1]. But one of my favorite app giveaways so far this Christmas has been Fotomecha, a very handy photo application from Japan.
Previously priced at $1.99, Fotomecha has been made available for free from December 20th to 28th. And while Camera+ has been my photo app of choice for iOS, a few more days with Fotomecha might change that. The app has seven different lens modes, including a handy vertical 4-shot rapid-fire function (pictured below) which works great for moving subjects. I did find, however, that the 6- and 9-shot functions crashed the application, although to be honest I don't ever expect to want to take anything more than a 4-shot.
You can even make animated gifs as well, which can then be uploaded to TwitPic or sent via email. I didn't run into any problems with that function, and managed to create a simple animated gif just fine.
I don't mess about with photo filters too much, but the Black & White, Cyano and Russian Blue filters that come with Fotomecha look really nice. There's an option for vignetting to be turned on or off, focus and flash options, and a zoom of up to 4x.
The app has been around for quite a while now, but thanks to this recent price cut, it is now sitting pretty in second in the 'photo and video' category over on the Japanese App Store. For anyone with kids or pets, I definitely recommend picking this up and giving it a try. You can download it here.
---
Although this application appears to be having issues at times, as the folks at DailySocial.net pointed out this morning.  ↩