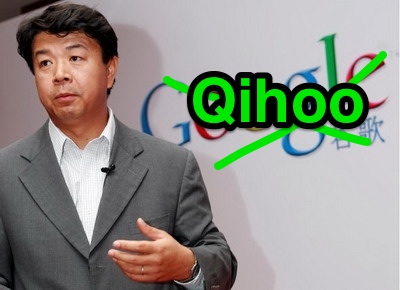 Google China boss John Liu quit in July last year after nearly six torrid years in the role. But he's been very quiet since then. Today Dr. Liu has resurfaced in a new job at another search engine – he's joined Qihoo (NYSE:QIHU) as Chief Business Officer.
Qihoo, a long-standing web company specializing in web browser and anti-virus apps, is the newest entrant to China's search engine market, entering with a big bang in the summer of 2012. Qihoo's search engine – at so.com – has gone from zero to its current 22.5 percent market share in just 16 months, according to data from CNZZ. It's making use of its popular Windows web browser and anti-virus apps to drive a huge amount of traffic to its new web search business.
Much of the market share for Qihoo's search engine has come at the expense of Baidu (NASDAQ:BIDU) and Google (NASDAQ:GOOG). Google has a mere 1.6 percent market share as a search engine in China in December 2013, compared to the 11.25 percent share it had in December 2010. Much of that is due to China's Great Firewall partially blocking a large number of Google's services, including the Google.com.hk search engine. Google shuttered its Chinese search engine – it was at Google.cn – under Dr. Liu's watch as the Silicon Valley search engine refused to comply with China's web censorship. Google retains offices and staff in Beijing and Shanghai.
(Source: Technode)
(Editing by Paul Bischoff)