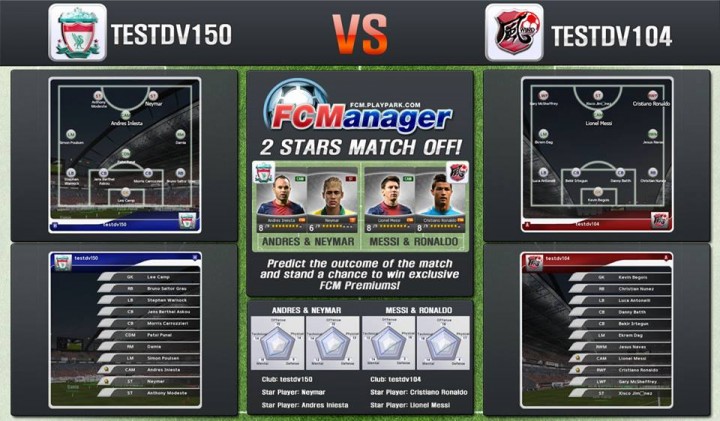 We've seen a number of football games launched in Asia. Today, Asiasoft Online opens private beta testing for its free-to-play football management game Football Club Manager (FCM). It will serve players in Thailand, Singapore, Malaysia, Vietnam, and the Philippines.
Developed in Korea by HanbitSoft and T3 Entertainment, FCM allows football fans to take the reins of their dream football clubs from England's Premier League, Spain's La Liga, Italy's Serie A, and German's Bundesliga. The line-up of players in these teams comes with statistics and skills that are based on their real-life counterparts, providing an additional layer of realism to the game.
Players can build the best line-up by recruiting, training and trading football players, as well as finding the winning formations, tactics and strategies for their line-ups. During matches, players can make on-the-fly decisions such as substitution and team adjustments, including changing of formations, tempo, passing styles, and offensive and defensive mentality, and lots more.
Asiasoft Online's chairman Sherman Tan says through the Football Club Manager game, the studio is looking forward to provide the ultimate football management experience in gaming to Southeast Asian players. He adds:
Football is possibly the most popular sport in most Southeast Asian countries and we believe football management has been one of the most exciting aspects of the game for avid fans.
During its beta testing, AsiaSoft is inviting interested players to simply sign-up. Those who do so every Monday, Wednesday, and Saturday will receive a congratulatory package that includes a club fund, player cards, and 30 percent decreased training time. FCM's closed beta testing goes on until July 30 at 11:00am. The game's open beta is slated to start on August 6.
Players who want to download the game can do so through the new FCM microsite.
(Editing by: Steven Millward)