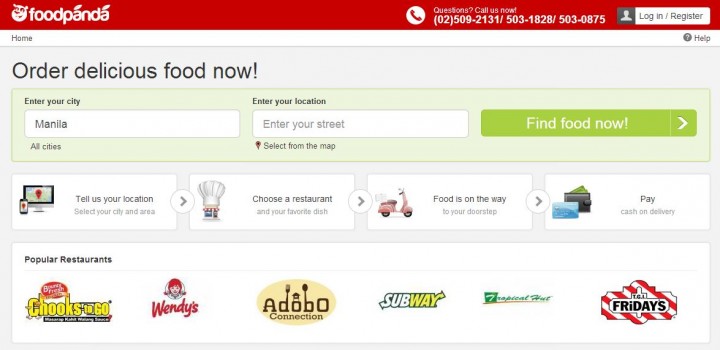 Rocket Internet's food delivery service Foodpanda received US$20 million in funding earlier this year to expand into more countries. Now we're seeing it happen. Today it adds Philippines to the roster of Asian countries it has gone into.
To jumpstart operations in the country, Foodpanda will deliver food within Metro Manila for over 500 partner restaurants. Through its web and mobile app, users can now search for nearby restaurants that offer delivery on Foodpanda and simply wait for it at their doorsteps.
Metro Manila is just the start for Foodpanda. It will expand as the demand arises, says Foodpanda Philippines managing director of operations Jasper Heyden. He adds:
Metro Manila provides the perfect starting point for our undertaking of revolutionizing the food industry in the Philippines. We definitely want to offer our service in more regions and cities. We are just starting to gain important insights about the Filipino market which will allow us to deliver an even better customer experience once we expand our service.
See: Foodpanda CEO: we want to be the Facebook of food ordering; here's how we'll do it
Tapping into tech-savvy Filipinos
By entering the Philippine market, the food delivery company understands that mall culture is strong and ecommerce is relatively new. Nevertheless, it is confident about the people's affinity for new technology. Heyden says that the fact that there are around 30 million Facebook users in the country is a sign that they can grow their business in this new market.
Foodpanda isn't the only sheriff in town though. Its regional competitor FoodRunner has recently acquired Philippine food delivery service City Delivery to expand into the country.
Foodpanda is available as a free download on iOS, Android and Windows Phone.