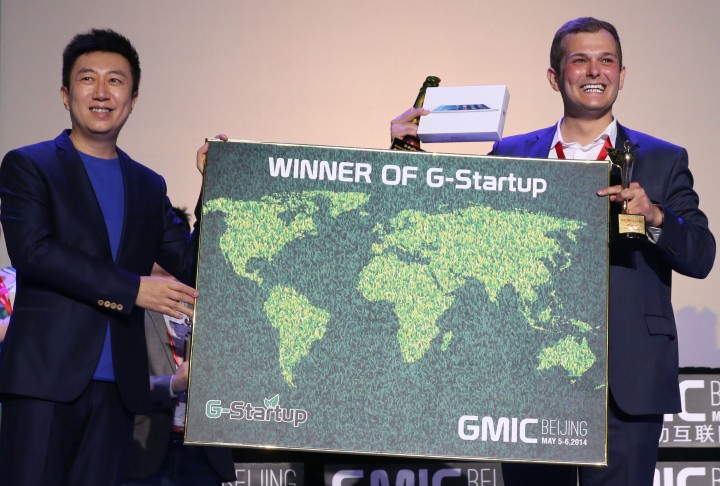 10 finalists pitched yesterday at the Global Mobile Internet Conference (GMIC) G-Startup competition, but only one startup walked away victorious.
Food Loop from Germany walked away with the gold. The company's store inventory and customer app solution saves both retailers and shoppers money on perishable foods by automatically marking down the price on groceries that are about to expire.
On the retail side, the startup places special bar codes on food packaging containing expiration and price data. Customers can use Food Loop's app to receive notifications about when foods nearing expiration go on sale. This doubles as a store loyalty program and a way for retailers to collect valuable customer data.
"We significantly contribute to the avoidance of food waste on a retail level," said founder Christoph Müller-Dechent (pictured above, right).
Retailers pay a per month, per store subscription. The system has already gone through a pilot program in a handful of stores in its home country, where Müller-Dechent says stores saved 50 percent on their waste disposal fees in addition to gaining more customers.
Capitalizing on the hype from the win at GMIC, Food Loop hopes to partner with a major retail chain to start saving food and money in hundreds or even thousands of grocery stores. In his initial pitch, Müller-Dechent mentioned he's set up talks with Walmart and Whole Foods. The startup will focus on the US and Asia as its initial markets.