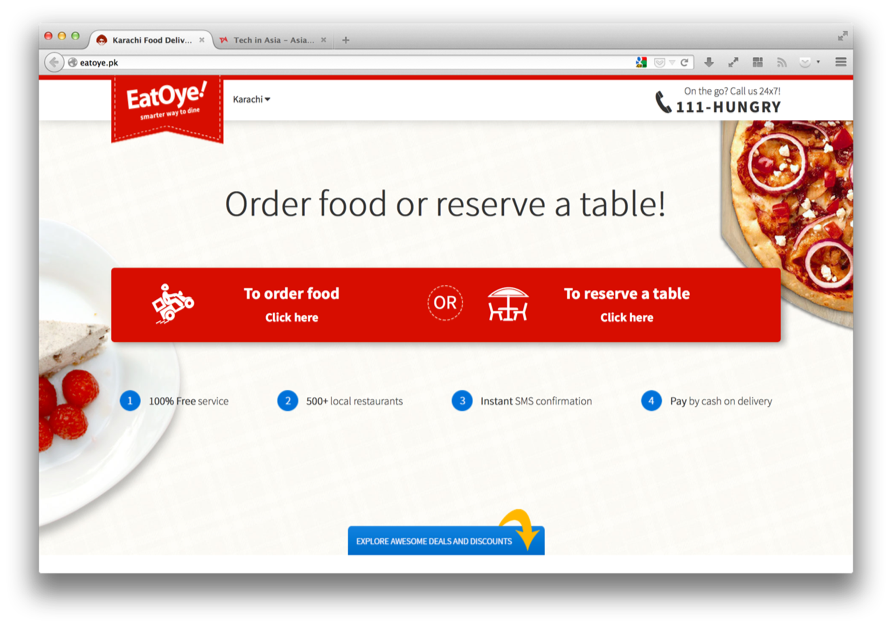 In Pakistan, there's a new challenger to Rocket Internet's Foodpanda. It's called EatOye, and it launches with food delivery options for eight Pakistani cities, covering 700 restaurants. As well as local stores, it covers major chains such as Domino's, KFC, and Subway. EatOye goes further than its rival in also having a restaurant reservation option for those who don't want a home delivery.
EatOye founder and CEO Nauman Sikandar explains that the new site and service is born out of Food Connection Pakistan, a startup that began as an online food guide in 2011. Now the entire company is called EatOye, and the foodie focus has shifted to deliveries and reservations. All that data on the nation's eateries and the relationships in that industry were put to good use in building the new site.
Feeding 15 cities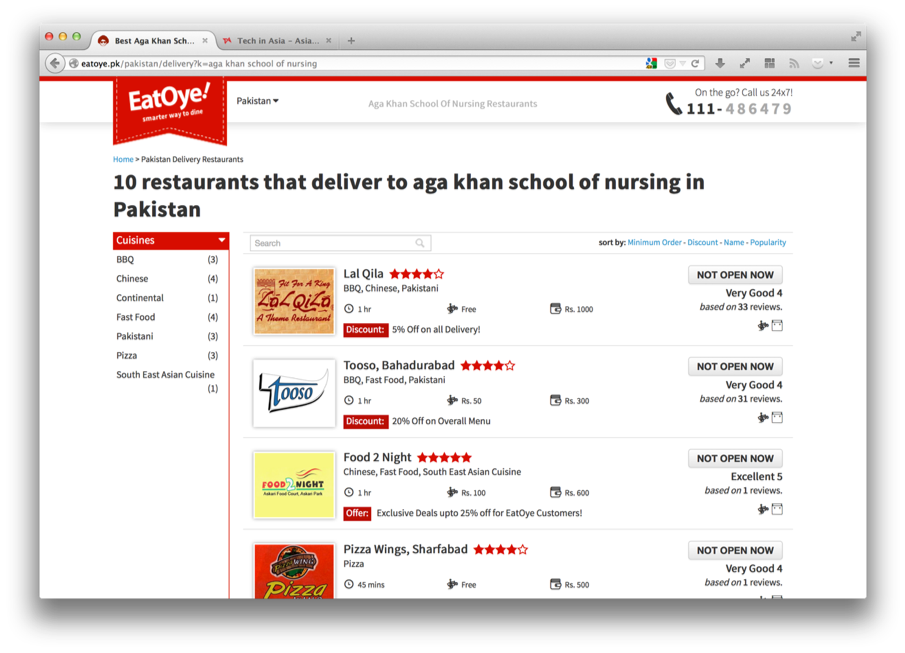 Sikandar says the goal is to expand EatOye to 2,000 restaurants in 15 cities in Pakistan by the end of 2014. To make that happen the company has business development teams in all major cities, adding new restaurant partnerships on a daily basis. Plus the company is looking at infrastructure. Sikandar explains they're working on "a completely new mechanism for order delivery that will drastically reduce order processing time and a more tightly integrated delivery mechanism that not only reduces time to deliver food but also maintain the original integrity of food quality."
EatOye is free for users – both for deliveries and reservations. The new site makes money by taking a transaction fee from the food establishments for each order.
To make the service more accessible in a country where mobile data and broadband coverage is lacking, orders can be placed via phone, and a confirmation is sent via SMS. You can pay in cash when your order arrives at the door.
Cooking up overseas expansion
The foodie service has regional and global ambitions as well. Sikandar says the team will start developing one overseas expansion effort in Q3 of this year. Plus the startup hopes to develop regional partners to assist in growth outside of Pakistan.
EatOye has in excess of 30 employees in Pakistan. It's owned by and under the wing of tech company Arpatech, which has over 200 staffers.
As for rival Foodpanda, which yesterday secured a further $20 million in funding and now operates in 10 Asian nations, Sikandar prefers to focus on EatOye's tech and efficiency. He explains:
[W]e feel that with the strength of Arpatech we are building a stronger technology base, a more cost effective operation, faster innovation, appropriate capitalization, and patience for the long term. These inherent strengths are what will give us success. It however does not hurt that in most metrics we have accomplished more with far less than other players in a short amount of time.
The EatOye team is working on apps for iPhone and Android.
(Editing by Paul Bischoff)