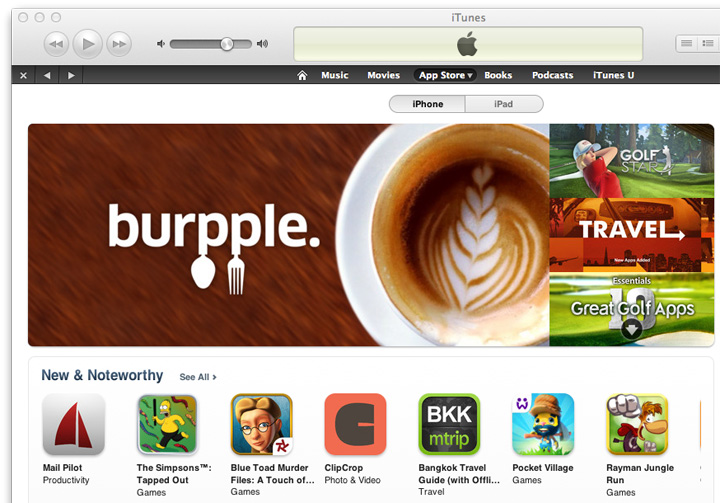 Singapore-made food app Burpple was featured on the front page across 14 countries in Apple's App Store in recent weeks. The 14 countries include Indonesia, Singapore, Vietnam, Thailand, Hong Kong, Taiwan, and Sri Lanka. We asked but the folks at Burrple didn't even know how they got featured. But I think we all can agree that the Burpple app is beautifully crafted. So it didn't come as much of a surprise that the App Store editors would like it. If you haven't played with Burpple yet, you better download it here now.
This isn't the first time Burrple got featured on the app store though. Co-founder Elisha Ong says that Burpple was featured last year on an iTunes mini-banner in the US and Europe. Though this is the first time the app was actually featured on the App Store homepage. Since the beginning of this year, Burpple has added more than 25,000 new users. The startup declined to reveal its total number of users.
Of course, downloads don't equate to money since the app is free to use. Burrple is currently exploring how it could generate revenue first by communicating with restauranteurs. Elisha told us:
We are working closely with restaurants and merchants to develop products and services that adds real value and benefit to them. Burpple Pages is one such offering that helps them grow their online and mobile presence, giving potential customers just what they'd need to know and decide where to dine.
Just yesterday, Burpple also made a move into the web, launching a Yelp-like food search site which I think could potentially turn into a restaurant reservation service. Elisha added that Burpple is looking to "change the landscape of restauranteurs, hawkers, and business owners" but didn't elaborate exactly how. So keep waiting and burpping, folks.