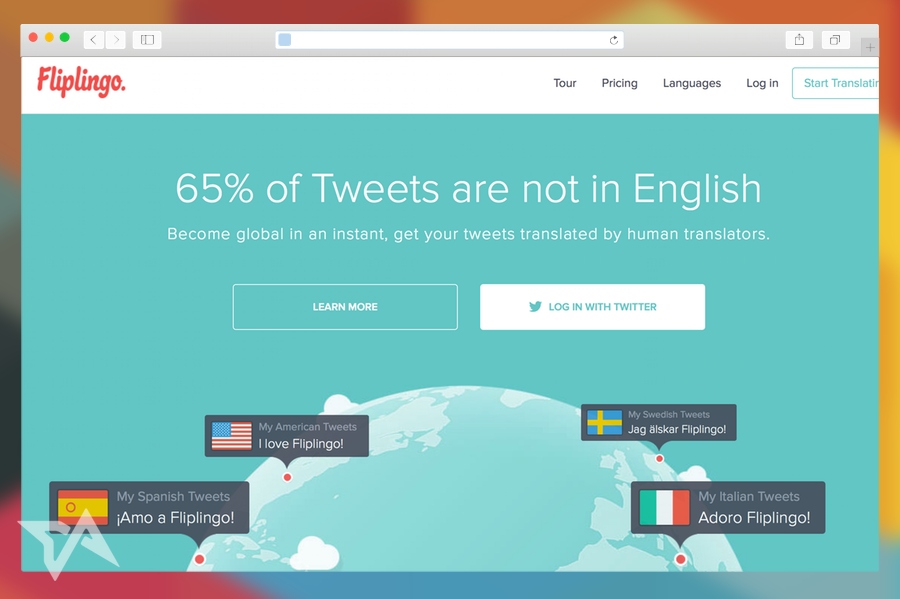 After months of beta testing, today Fliplingo goes live to the public with its human-powered Twitter translation service. The Thailand-based startup revealed today that it has accrued $150,000 in seed funding, contributed by its own team members, to help it grow.
Aimed at brands or individuals who want a global reach for their tweets, Fliplingo supports 30 languages. Subscribers get their tweets translated 'automatically' into certain languages – by a human translator, which takes a claimed 15 minutes on average – and then they'll be auto-tweeted out at a time that makes sense for people to see in a target country.
After beta testing since February, the startup now has 300 active users and has created 2,500 translated tweets so far for its subscribers.
Fliplingo founder Matt Aussaguel explains to Tech in Asia that most of its users so far are in the US, and the demand for translations is mostly from English to Spanish or Asian languages, especially Japanese and Indonesian.
Subscribers get dashboards for their retweets and mentions. There's also – more importantly – a 'Followers Language Analysis' that helps brands understand their followers in terms of the languages they speak and in which tongues a brand has the highest potential for social marketing outreach. It looks like this: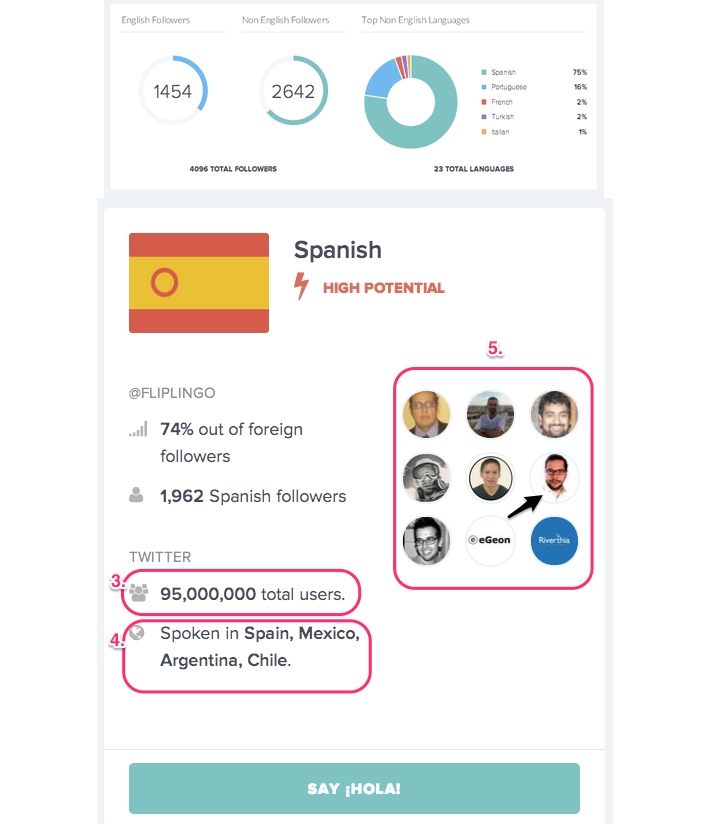 See: Waygo's point-and-shoot translation app hits Android; next stop Google Glass?
Crowdsourced translations
Fliplingo outsources its linguistic sorcery to Gengo, a Japan-based startup of crowdsourced translation work that recently passed the milestone of 200 million words translated. Aussaguel explains the deal:
Gengo is the API we always intended on integrating ever since the idea of Fliplingo came about. Although we initially had plans to gradually test other APIs, it became evident during the Beta period that their translation service was of high quality and matched the needs for Fliplingo. At three months within the beta period we officially announced that the translation were outsourced with Gengo, and with excellent work relations, particularly with the technical team, we consequently became trusted partners.
Fliplingo makes money from subscriptions as well as the cost of extra tweets or languages. The automated 'Flip' subscriptions start at US$19 per month, though the startup estimates that the total cost will come to about US$36 per month in the case of a person or company that wants one tweet a day translated into one language.
The multi-national team behind Fliplingo is currently based in Thailand, but Aussaguel says they'll relocate to Europe later this year.