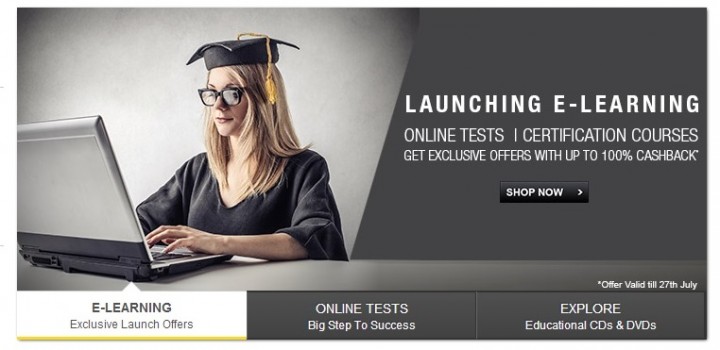 Browsing through, finding, and registering for an online course has just got as easy as buying a book. India's largest ecommerce marketplace Flipkart today introduced an elearning category on its site aimed at students. Certification courses, prep tests, and educational CDs form the bulk of the 1,900 products and titles in the new category at the outset.
Students preparing for competitive exams are obviously getting special attention. Study material from Career Launcher, Edurite, EduKart, Merit Nation, TCY Online, and Practice Guru are part of the elearning portfolio, and Flipkart says it plans to ramp up this section.
Nipun Mehra, senior director of retail at Flipkart, says in a statement:
The availability of eBooks, certificate courses and online tests – all on one platform — will make the entire process of buying/accessing elearning material very easy for students who form a significant part of our customer base today.
For example, a student can buy the EduKart V-Skills Certified Cloud Computing Professional Course for US$500 on Flipkart. She will get an email with a link to the provider's website to register and start learning. That's much easier than surfing to multiple elearning websites.
With new funds pouring into Flipkart, we can expect more innovations and improvements on the site in the coming days.
See: Flipkart, India's largest online retailer, raises $1 billion in fresh funds