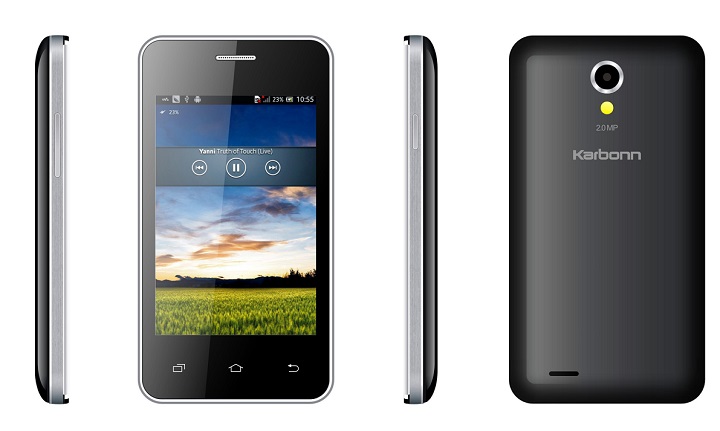 The budget smartphone market in India keeps getting more crowded by the day. Just a week ago, Google announced plans to build and sell affordable Android One smartphones in India in partnership with local phone makers.
But before Google's phone could arrive, Indian ecommerce leader Flipkart has pressed ahead by launching a range of budget smartphones, starting at INR 2,699 (about US$45), in partnership with smartphone maker Karbonn.
Google too partnered with Karbonn, in addition to Micromax and Spice, for its Android One.
Flipkart's dual-sim smartphone series, supported by Android Jelly Bean and KitKat operating systems, is the first of its kind in this price range, according to a company statement announcing the launch. Last week, it unveiled a tablet called Flipkart Digiflip Pro XT712 that seems designed to help people buy things on its estore. Now, Flipkart's smartphone could push the mobile commerce agenda further, echoing what Amazon is doing in the United States with the Fire phone, although the latter is a high-end device.
India is the world's fastest growing smartphone market, thanks to the large number of budget smartphones flooding the country. Cheap but sleek Chinese smartphones like Wham are already giving Indian affordable device-makers like Micromax, Lava, Karbonn, and Swipe a good run for their money. Comparable features at a lower price point are a big draw for Wham.
Early last month, US-based Mozilla revealed its plans for launching Firefox smartphones as cheap as US$25 in India to The Wall Street Journal.
India's own Bharat Sanchar Nigam Limited (BSNL), a state-owned telecommunications company, too entered the fray a few months ago with the Bharat Phone series. Built by Indian mobile device maker Pantel Technologies, these dual-sim smartphones are priced at INR1,799 (US$30). Billed as "the device to deliver the power of the internet in the hands of the common man", this phone comes pre-loaded with apps for mobile banking, tele-medical care delivery and streaming data delivery. As an additional lure, BSNL threw in 100 minutes of talk-time free every month. The new Modi government in India says it is very keen to promote e-governance, and the Bharat Phone comes out of that initiative.
India has become a battleground for low-cost smartphones, and consumers are gleefully lapping them up. In the first quarter of 2014, 17.59 million smartphones were shipped in India compared with 6.14 million in the same period of 2013, according to research firm IDC. Smartphone sales more than trebled in India to hit 52.4 million in the financial year 2013-14, growing by 244 percent.