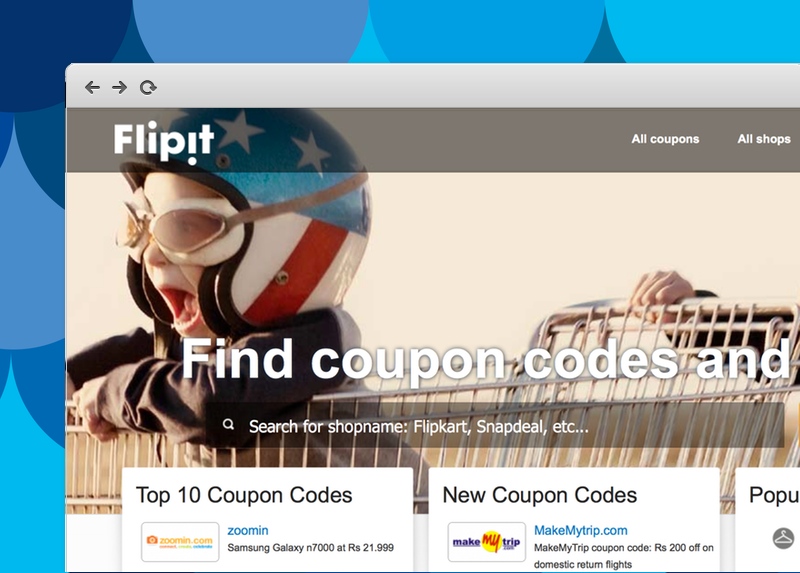 Having launched in six countries across Europe, the first Asian destination for couponing site Flipit is India. The basic idea is that Flipit partners with online retailers to offer substantial e-shopping discounts. In India, Flipit has already buddied up with the likes of MakeMyTrip, Yebhi, and chains such as Dominos Pizza.
Coupon sites are an established idea on the web in India, with sites like FreeCharge.in giving coupons when buying mobile credit top-ups, or newer entrants like UK-based Cashkaro offering cashback for some e-shopping deals. And so Flipit, which originally hails from the Netherlands, enters a crowded market of startup sites keen to entice more Indians to buy stuff online.
We asked Flipit founder Jochem Vroom – a well-known e-commerce entrepreneur in the Netherlands, and co-founder of parent company Imbull – why India was chosen as its Asia-Pacific debut:
It's a combination of many things, but most of all it's the size of the market and the enormous popularity of couponing. The amounts of available coupons per shop is unmatched in almost every country over the world. These high volumes are a good test for our website/platform. We do plan on starting in all major Asian markets soon afterwards. The language will probably be the biggest challenge in these countries to come.
For now, Flipit is only available in English in India, but a lot of homegrown e-stores do that as well. While building up the Indian site over the past six months, Flipit now has about 10 nearly full-time people on the local team. Jochem explains that their approach to building was a bit different in India:
Normally we pick up a country through many local (exchange) students in Amsterdam. But this time working with many freelancers in India is a logical and very effective step. The high quality of the freelancers in India is surprisingly good. Actually 50 percent of the technical work of Flipit (the entire website) was outsourced to India, which was also a reason why we wanted to launch there fast.
The Indian Flipit discount portal currently has around 1,100 working coupons, with many more to be added shortly as the startup team works to "add all online stores in India" to the site.
As with rival online couponing sites, Flipit will be monetized by affiliate and performance-based marketing. For Indian e-tailers, the appeal of such sites is to expand their reach and drive in traffic and new e-shoppers. Jochem believes that the company's broader e-commerce experience will help with that aspect:
Due to our position and experience we know what advertisers want: they want to have a large additional reach and added value from their publishers. We know how to bring this with building up huge social, email, media, and website reach. We are not interested in short-term gains, we want to build up a huge global brand.