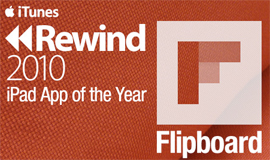 Year-end iTunes Rewind lists: Apple has named Flipboard as the iPad app of the year.
Flipboard, is an iPad magazine powered by social media. It has won many praises for its gorgeous information display linked seamlessly with social data. The concept has worked perfectly on an iPad, which supports high-definition display and wide screen reading with multimedia support.
A laptop allows a reader to view multimedia content but doesn't provide mobility. The newspaper is easy to carry around but isn't interactive. The Flipboard iPad app has both interactivity and mobility. On top of that, it is the social element that has made it unique. Catch the video to learn more:
Being named the iPad app of the year, we would expect downloads to soar over next few weeks. Especially when it's available for free on iTunes. Flipboard is just one of the few apps which has successfully built an empire on top of Apple's iPad. But it remains to be seen how the Flipboard team is going to monetize its product. Advertisements seem to be the most obvious monetization method. Other successful iPad apps include games like Plants vs Zombie and Angry Birds. Both games have already built a strong foundation on the iPhone prior to their success on the iPad.
Upcoming applications which have planned to ride on iPad's success includes Rupert Murdoch's iPad-only news content, 'The Daily', and Richard Branson's digital magazine which focuses on entrepreneurial content.