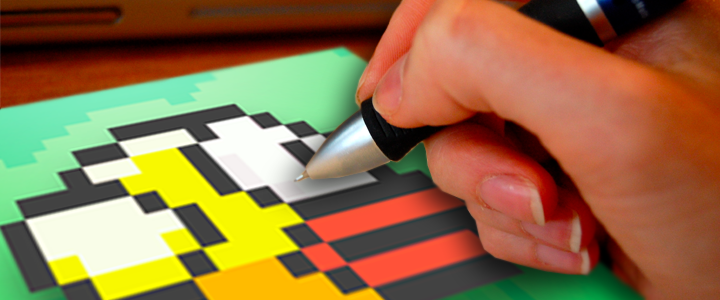 Okay, so you're one of the few people who hasn't downloaded Flappy Bird, and you're very eager to play the game on your own mobile device. Maybe you want to beat your friends' score, or maybe you're just curious. Whatever the reason, you're left behind because the game is no longer available on Google Play and in the iOS App Store. Fret not, because Tech in Asia has compiled a few ways through which anyone can download and play Flappy Bird even after its official disappearance.
Note: Tech in Asia does not encourage app piracy. We're linking to these sites for reference.
1. On Android: download the APK file
Thankfully it's easy on Android to install any app. Just open a browser on your phone and head to a third-party Android app store like Indonesia's JalanTikus or China's Wandoujia to get the Flappy Bird's APK file from there. Download it in your browser, and then install it on your phone.
Alternatively, a simple "Flappy Bird APK" Google search should also suffice as there are a lot of websites offering the app file.
2. On iPhone/iPad: jailbreak your iOS devices
There are also ways for iOS users to download Flappy Bird, but it requires jailbreaking a device first. That's not easy. You can learn how through online resources like Guide My Jailbreak and iPhone Hacks.
Then you can download the iOS Flappy Bird game on third-party Chinese app stores like Tongbu or iTools. Stick that into iTunes, and your jailbroken iOS device will sync and install it.
Alternatively, you can also download Flappy Bird without jailbreaking your phone through China's Kuaiyong. We don't recommend it at all, and there's a strong risk of your personal data being stolen.
We've written about how dubious this KuaiYong is before. If you really want to risk it, you can first download Kuaiyong's app on your phone here. Then download the Flappy Bird game from it. While I was able to download Flappy Bird just fine, the game suspiciously asked me to input my Apple credentials before playing it. And I still couldn't play even after I put in my credentials correctly. You might have better luck, but we'd say you best avoid this.
There are always dangers involved when you download from third-party stores. Proceed with caution.
3. Buy a used iPhone/iPad with Flappy Bird installed
If you're fine with dishing out insane amounts of cash to buy a used iPhone or iPad with Flappy Bird installed inside, you can search for such devices on eBay or other online marketplace sites and bid to purchase them. Money solves all problems I guess.
Or, on second thoughts, maybe eBay isn't the best place to find such a device.
Alternatives
Of course, there are ways you can enjoy Flappy Bird without playing the original version. Here are two bonus tips:
4. Play the remade versions online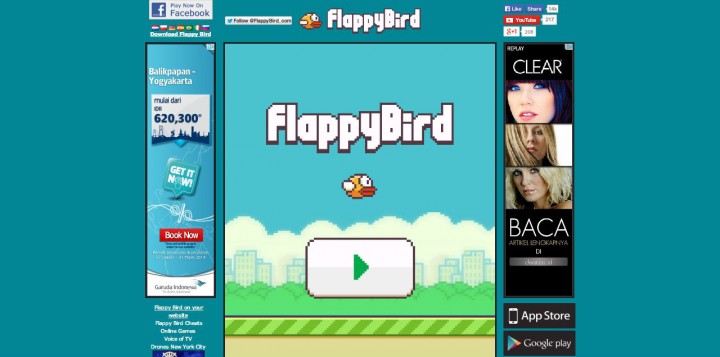 Yes, there are ways for you to play Flappy Bird online in a browser. The games aren't originally made by creator Dong Nguyen though, so they're not perfect.
Simply Google "play Flappy Bird" and you will find a host of Flappy Bird Flash-based games online. Or just head to FlappyBird.com, FlappyBirds.com, or FlappyBirds.co.uk. There are probably more out there.
5. Play Flappy Bird clones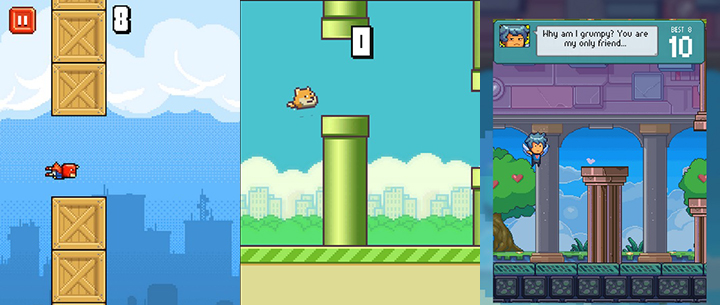 Flappy Bird's huge success has inspired many game developers worldwide to launch a range of similar titles. There's Ironpants, Flappy Doge, and TouchTen's Amazing Cupid to name but three. While these might not come close to the purity of the original, some of them inject a fresh dose of creativity into the game's concept.
(Editing by Josh Horwitz and Steven Millward)