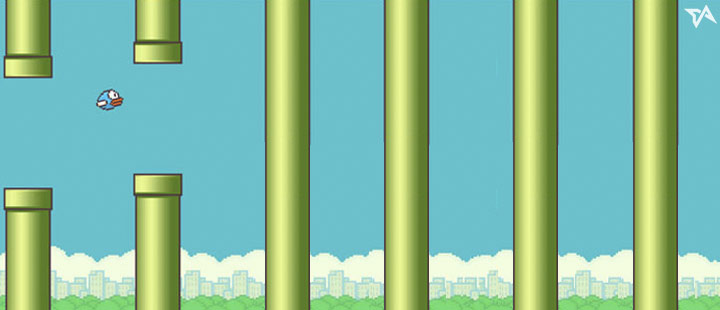 Apparently the news cycle is not finished with Flappy Bird, and it's high-yet-low profile creator Dong Nguyen. Vietnamese newspapers recently reported that Nguyen is now in San Francisco, last seen attending a yacht party in the bay. Just before that, Rolling Stone had its extended exclusive with the enigmatic creator which revealed that he might bring back Flappy Bird to the App Store and Play Store in the future.
But the dark forces have landed on the Flappy Bird trademark, and it's possible that if Flappy Bird does return to the App Store, an American company called Ultimate Arcade Inc will do everything in its power to stop it. In an email to Tech In Asia, Ultimate Arcade Inc has set down its ultimatum:
UAI believes it's rights in the Flappy mark are superior to any Dong Nguyen may have in Flappy Bird, and we have already advised the App store of this. We hope it is no longer possible for Flappy Bird to return to the App store.
Ultimate Arcade Inc claims that is has been using the Flappy (yes, that does not include the word Bird) trademark since 2006 in games like Flappy. Now, it seems Ultimate Arcade Inc knows that the law in the USA is not set in stone:
In the meantime, however, because a federal registration is not a prerequisite to stopping illegal trademark infringement in the US, UAI intends to fully pursue and enforce its common law rights arising through its extensive and previously exclusive use of the mark Flappy.
It echoes previous landgrabs for trademarks like when Paris Hilton sued Hallmark for infringing on her use of the phrase "That's Hot!" or Walmart trying to get the trademark for the yellow happy face. This even happened with a game like Candy Crush. Ironically, some of these cases are actually won by the companies that file them. It's therefore within reason that Ultimate Arcade Inc could win a case against Dong Nguyen if it came down to it.
Ultimate Arcade Inc is especially concerned that others will confuse its Flappy game as a clone of Flappy Bird even though its game came out over 6 years earlier:
The confusion is so extreme that Ultimate Arcade's own 8-year-old FLAPPY game is now often viewed as just another clone and is not yet being allowed by that name in the Apple iOS Store.
Whether or not this is unethical is another story altogether. It's also not clear if Apple and Google will accept Ultimate Arcade Inc's claim to Flappy is up for grabs. Especially given that these companies are both blocking apps with the name Flappy in them.
In the meantime, it looks like Dong Nguyen is enjoying himself. He is arguably still one of the world's most enigmatic and famous engineers.