E-commerce is touching every aspect of our lives, from groceries to fashion to baby products. Art is no exception. Startups like Artsy, Artspace, and Saatchi Art want to replicate the gallery experience online, and even Amazon has thrown its hat into the ring.
But despite the changing behavior of art consumers, where 64 percent of collectors surveyed have bought art from galleries just by looking at digital images, Asian works have been left out.
"I was helping clients source for designs in London, and started looking at what's available online. But there weren't many sources," says Talenia Phua Gajardo, who put her architectural and interior design practice on hold to start The Artling and work on it full-time.
The Artling is a Singapore-based online art gallery which has just secured $200,000 in seed funding from an art collector. It caters primarily to American and European customers who want to buy art from Asia.
No walk in the park
Jumping into an e-commerce venture has its own set of challenges. Raising funds was one. She approached an angel investor with the idea, but was told that she'll need to build a prototype and get galleries on board first.
Fortunately, she was able to put money from her design work into the startup and go without a salary while securing galleries. It took some convincing, but she got it done. She says:
"Some galleries have online stores, but the majority don't. What happens after a show is that all the works disappear; it doesn't live anymore. So why not bring them online?"
Next she had to create a beautiful site on a shoestring budget. Unable to afford a UX designer, which she says cost between $15,000 to $18,000, she had to coordinate with a part-time Python developer herself to get the beta product out. Her design skills were put to good use when doing mockups.
Like any non-technical founder, it was challenging to get a full-time developer on board. But Gajardo found learning programming herself too intimidating:
"I tried out Codeacademy but stopped very quickly – programming isn't for me."
While she could've just hashed out a simple minimal viable product using plug-and-play e-commerce builders like Magento or Shopify, she chose to build the product from scratch. That's because unlike other kinds of e-commerce, art buyers and sellers have very specific requirements.
"Aesthetics are very important. Artists wouldn't want to put their artwork on a site that looks ugly. The clarity of the artwork on display is really crucial too."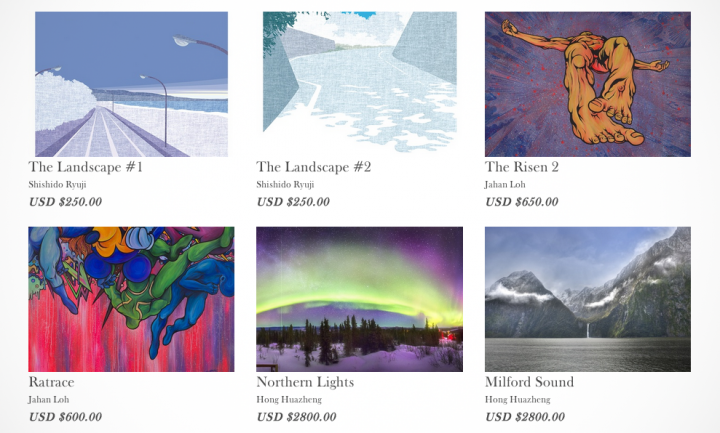 Whipping the site into shape isn't easy. She sought out another Python developer to help fix a problem, but all the good ones were already hired.
She even went to the extent of posting on the Singapore Python user group to ask for help.
"What impressed me about Python developers is their passion for the craft and how they're always finding the most elegant way of writing code to accomplish a goal," she says, explaining why she stuck with the language.
But her efforts to build a sophisticated website from the ground up weren't in vain. After launching in June 2013, the site now stocks over 5000 pieces from 24 galleries, and it's aesthetically-pleasing enough to catch the attention of discerning art snobs.
It enables users to search for artwork by type, artist, curator, as well as cost, and features both established and emerging artists, with their pieces ranging from $120 to $10,000 in price.
A concierge element
A unique part of her business model is a consultancy and sourcing service which helps clients source artwork for residential projects, hotels, and offices.
Tacking on a consultancy element to an online venture is not the most scalable approach, but it's perhaps necessary given there's a lot of convincing and handholding to be done to get more people to buy art online.
Tracking the inventory of physical galleries is manual for now: Gajardo relies on constant communication with them to ensure customers don't order an art piece that is out of stock.
However, she does not rule out building an inventory management system in the future, though getting enough galleries to use it will be the real challenge.
Gajardo's also looking into possibly launching a secondary marketplace for art collectors to resell their collections.
Given her international exposure in design and architectural firms in Singapore, London, and New York, it's a surprise that Gajardo has decided to launch The Artling out of Singapore. After all, Singapore's twin city Hong Kong has a much more developed art market.
But she eventually picked the country because she has a stronger network in there, and also because the government has recently been aggressively backing Singapore's art and startup scenes, which promise strong growth.
Also, tapping onto government funding is easy if the company is based there. "The support the government has shown here is incredible, and the fruits are starting to be seen."
In any case, she believes she can still reach out to galleries in Hong Kong without being physically present.
Hiring is another factor, and it's easier to hire foreign talent here than in Hong Kong even though the same labor crunch applies to all startup ecosystems. Nonetheless, she has managed to find two interns from the art schools in Singapore who have an interest in both art and technology.
"But the new quotas in Singapore are making things more difficult. If I want to get a really good foreigner, I would need to balance out with a few locals that are hopefully up to par. Fortunately, I've been able to find them," she says.
(Editing by Vanessa Tan)

 Investor and want to find out more about The Artling? Check out its profile on Techlist and sign up or log in to start a conversation.