After exiting from mobile security startup tenCube in 2010, entrepreneur and investor Darius Cheung has been on a mission to build a crack team to solve the next big problem, whatever that would turn out to be.
It's an approach many successful startup teams have taken, and where Silicon Valley innovation labs like Betaworks and Obvious Corp seem to be heading towards: assemble a group with talent and chemistry, and tackle a series of problems along a theme until That One Project is found.
With his company Billpin, Cheung is also taking the team-before-problem approach, although replicating Obvious Corp wasn't something he's doing intentionally. He says:
My belief has always been about getting the best talent and building chemistry first, then giving the team breathing space to work on projects.
Once the group is assembled, the next immediate task was locating an overarching theme. Uncovering it was an eventual process, and the company's first product, a bill-splitting app called Billpin, was more of an attempt to solve personal problems rather than meta issues.
The app got some decent traction (although Cheung didn't reveal exact figures), and they even acquired a predecessor.
But it wasn't going to be a core focus: The company will continue to maintain and support Billpin, although it won't monetize the app. On the other hand, Homie, a find-a-roommate website that the company has officially launched today, is bringing the company one step closer to a raison d'être. Cheung says:
Homie as it is today is only the tip of the iceberg, and we have a lot bigger plans in modernizing urban mobility.
According to Cheung, as the world becomes flatter, cross-border travel will increase, resulting in a greater need for people to settle into a new environment as quickly and seamlessly as possible.
Homie, therefore, is a first step towards helping users find a home in a foreign land by combining social proofing with smart filtering features based on gender, location, occupation, and other information.
Cheung observes that people have been seeking roommates through one of two methods: by searching through sites like EasyRoommate that provides great information on location and facilities, or by asking friends on Facebook for roomie recommendations, and then sussing them out for mutual friends and insterests. Homie is attempting to combine the best of both worlds – it's sort of like Airbnb but for longer-term stays.
While finding rooms is just a part of what Homie wants to do, the startup also plans to help users locate whole apartments.
These longer-term travelers, which comprises students as well as upwardly-mobile professionals, are a group that startups are increasingly targeting – a noteworthy example is Vault Dragon, a Singapore-based startup that is rebuilding the self-storage industry from the ground up to make it more user-friendly for travelers.
Monetizing isn't Cheung's top priority right now. But he knows what he doesn't want to do: charge for advertising, premium listings, and messaging between prospective roomies. That's because he wants to make sure users get the best organic search results possible.
The platform, which focuses on Singapore for now, has been in open beta since October 2013, and has since garnered over 5,000 monthly visitors and over 1,000 unique locations with 15 percent weekly growth.
Cheung says that he is looking for investors to fund Homie, with its Angelist profile indicating that it is raising $800,000 for its seed round. The startup is supported by NUS Enterprise, a program by the National University of Singapore to back startups, as well as by Media Development Authority's i.JAM scheme, a government seed funding initiative. The company is housed at Plug-In@Blk71, a co-working space managed by NUS Enterprise.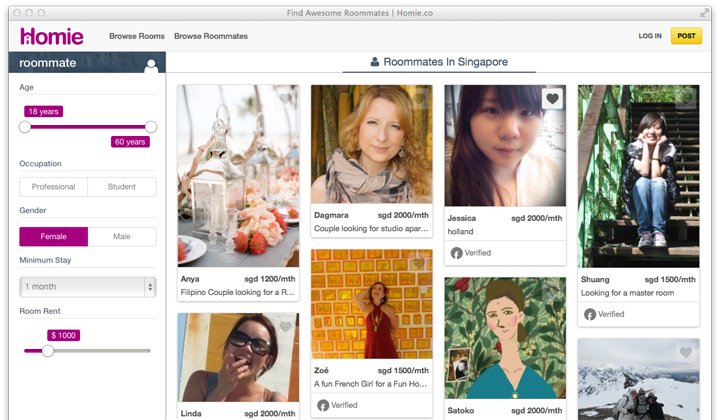 (Editing by Vanessa Tan and Willis Wee)