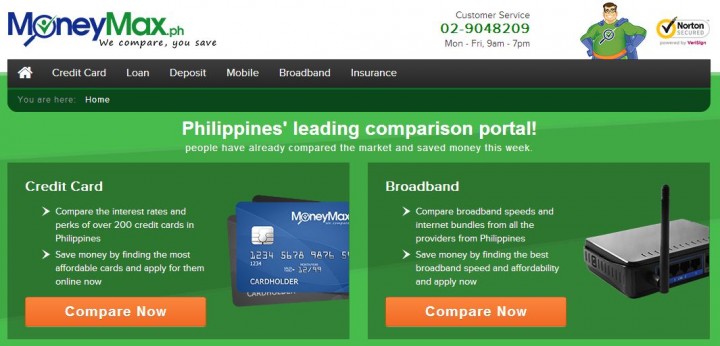 Financial comparison engine CompareAsia Group, a venture of technology investment firm Nova Founders, has launched a number of comparison sites in Asia. Most recently, it expanded to the Philippines with the launch of financial comparison site MoneyMax.
MoneyMax offers comparison services for credit cards, insurance, loans and broadband plans. It allows personalized search filters for its users that aim to show results that suit consumers' specifications. For example, credit cards can be filtered by annual fees and rewards, among others. Users can also choose from mobile and TV plans for broadband services.
It's a third-party platform that promises to provide unbiased information about the products it lists on its website. Apart from comparisons, it includes news about the financial and broadband industry and consumer guides for applying to such services.
MoneyMax vice president Quentin Bouche says expansion in the Philippines is a good time for CompareAsia. He adds:
The Philippines is going digital. It is the number one country in Southeast Asia in terms of social networking and mobile penetration, and number two after Indonesia in terms of real internet users. At the same time, banking and finance remains very conventional. We are here to head a wave of change.
Through MoneyMax, Bouche explains that users "don't need to go to a bank to gain access to financial products." Its comparison service aims to fill a market gap in the country by helping consumers who need information on financial products.
It currently has 17 banks on its platform with 124 credit cards. Its broadband comparison facility has seven providers with 119 broadband plans so far. In the next few weeks, it will also launch comparison of personal and home loans.
Other comparison sites by CompareAsia in the region include Compare Hero in Malaysia, Money Hero in Hong Kong, and Money Guru in Thailand.
In the Philippines, MoneyMax is set to compete with iMoney which also launched its service in the country last June.
(Editing by Paul Bischoff)