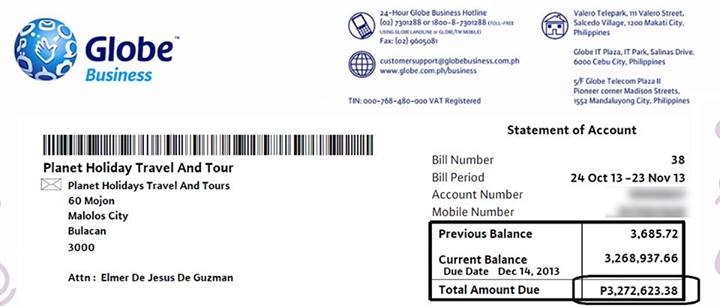 A subscriber of Philippine telco Globe Telecom was surprised to see that his phone bill went up to a whopping Php 3 million ($67,970) for a single month. The cause was apparently attributed to data roaming charges. He posted the bill on his Facebook account, and it went viral. Some comments say that they, too, have experienced a similar 'overcharging' situation.
The subscriber's post has now reached over 2,300 shares and around 200 comments.
The bill breakdown, which he showed on the same post, shows that he in fact consumed more than 10GB worth of data. But he says that he purchased an unlimited data roaming service from the telco for $55. This means that despite all the data activity, the overage charges were unwarranted.
Referring to his previous balance, his regular bill should only cost around Php 3,600 ($81).
Tech in Asia has also reached out to Globe, which said it will look into the matter and validate the facts. (UPDATE 04:29 PM) The telco acknowledges that the subscriber "did enroll in the Bridge DataRoam Unlimited promo last November 10, 2013." The statement adds:
Unfortunately, based on our initial findings, the system did not apply the correct zero rate for promos on the data usage which inadvertently caused the bill shock.  While this is an isolated case, we are taking a proactive step to investigate if there are similar instances in areas other than the UAE where the BDU Roaming promo is being offered.

Globe has reversed the charges to reflect the correct amount in the subscriber's billing statement.
On-going issue?
Before we dismiss this as an isolated case, another subscriber left a comment on the same Facebook post with a picture of a bill that amounted to Php 43,320 ($981) after a two-day trip to Singapore.
A few months back, a customer also posted a screenshot of his payment on Facebook of a supposed Php 5-quadrillion ($113 trillion) bill. The telco received the flak of netizens, but Globe called it a hoax.
Going further back, in 2011, the National Telecommunications Commission (NTC), the governing body of telcos in the Philippines acted on some complaints that subscribers were charged for data use despite never using their phones for internet.
As far as credit consumption in the Philippines is concerned, Globe improved its service when it implemented a load watch feature last year that automatically informs users of how many credits they have. It also sends an SMS if a subscriber's data service has already expired.
Whatever is causing the trouble, it deserves at least some attention from Globe and the NTC.
(Source: Pinoy Tech Blog)
(Editing by Paul Bischoff)