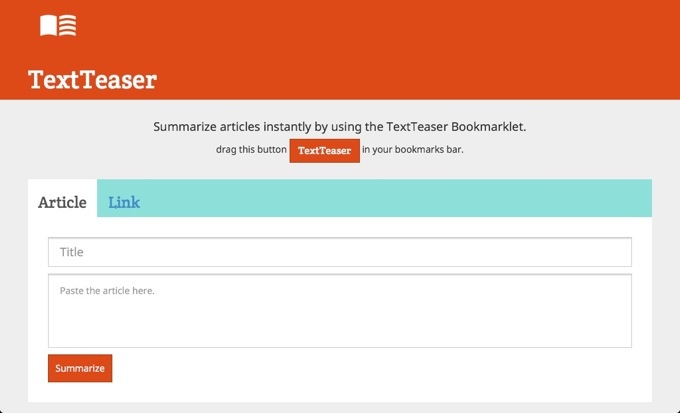 At the age of 19, during Filipino developer Jolo Balbin's graduate studies, he researched how to summarize lengthy articles. This lead to the creation of his startup TextTeaser, an automatic summarization algorithm API.
Simply put, it's a way for users to summarize an online article by just pasting a link or the text of an article on the site. The algorithm used to create TextTeaser factors in four elements: title, sentence position, sentence length, and keyword frequency. People can use the link of the summarized article or embed it into their websites.
On the other hand, news sites and developers can also integrate TextTeaser into their own websites for news summarization purposes or other suitable purposes.
Now, 21-year-old Balbin is also working as a data scientist at US recruitment platform Bright.com. Looking back, he says, after studying and formulating an automatic summarization algorithm, he didn't want his research to be wasted. From there, he decided to build a product around it. He adds that he really wanted TextTeaser "to be a website that allows people to share summaries easily."
Feedback led to improvement
As Balbin further developed his creation, he posted TextTeaser on idea-sharing platform Medium and eventually used Mashape, an API marketplace, to host his API so that developers could use it. Together with Ben Sarmiento, they also created a "tl;dr" (too long; didn't read) bot in Reddit to summarize articles submitted. This has become useful for Reddit users when sharing articles.
The bot got a positive response from developers and was featured in Hacker News.
Because of this, more people are now using the TextTeaser API, especially now that it's open-source on code hosting service GitHub. The number of API users greatly increased because of it, Jolo says. Around 300 developers are now using the platform. And from this growing number of users, he also appreciates the fact that the users themselves are giving him feedback on how he can further improve TextTeaser.
On par with global counterparts
News summarization apps like TextTeaser seem to be part of a trend lately. Recently, both Google and Yahoo acquired news summarization startups like Wavii and Summly.
Following this trend, Balbin made sure the algorithms he uses will stand out. He tested TextTeaser together with other summarization platforms. TextTeaser consistently gives the user a five-sentence summary, while Summly is dependent on the length of text. For another news summarization tool Cruxbot, users can adjust the length.
By testing a number of articles on these platforms, his analysis showed, "TextTeaser got equal to slightly better results."
While the platform is open-source and can be used for different purposes by the developers, Balbin can also help deploy TextTeaser on their sites. This is how he generates revenue. If the developers "don't want the hassle of getting in the code and deployment stuff," says Balbin, he will do it for them.
While he thinks there is not that much opportunity yet in the Philippines for TextTeaser, there's interest that's showing from the US and India. US news site BitOfNews is one of the many users of TextTeaser API.
Balbin says people are now keeping in touch with him to modify TextTeaser based on their needs. This goes to show that there is enormous talent in the Philippines just waiting to be discovered. Jolo is just one good example of this.
Balbin says users and developers can also follow @Textteaser on Twitter to follow updates on the platform.
(Editing by Paul Bischoff and Terence Lee)