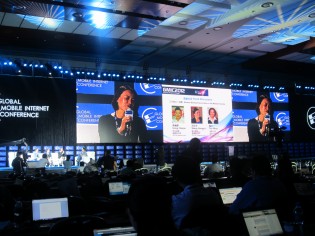 This is part of our coverage of the 2012 Global Mobile Internet Conference (GMIC) in Beijing. See our interviews and reports from the event here.
In a discussion panel at The Global Mobile Internet Conference late this morning, three women – Gong Haiyan, CEO of Jiayuan.com; Tina Tao, COO and partner of Innovation Works; and Wang Hongyu, CEO of Panguso.com took to the stage to discuss women and entrepreneurship in China. The panel was moderated by Shen Yin, who is the founder of NTA Creative Communcations Agency — and also a male. I thought his presence was very much suppressed by the female leaders, and this was a little refreshing after the rest of the day, which someone less polite than myself might call a sausage fest.
Tina Tao told the audience that out of over 40 startups Innovation Works has invested in, none have female founders. So is it an issue where females are not suited for entrepreneurship or the tech startup eco-system doesn't favor females? I'm sure this isn't just the case here in China, but likewise in Silicon Valley — the idea of entrepreneurship, although it's growing, isn't getting much love from females.
Raising the point of more female owners now on Taobao, Tina pointed out that there are actually more females participating in entrepreneurship. I would think there are actually more females within the areas of social and e-commerce (perhaps because most of us would love to have an infinite wardrobe) but not so much in the tech-focused startups.
What impedes most females entering the grueling entrepreneurial journey is probably the familial responsibilities. As much as the equality gap between men and women is narrowing, women are still very much influenced by traditional values. It clashes with the realities of today's entrepreneurial route. The role of a female is traditionally portrayed as a virtuous wife and loving mother, and often, the idea of a career woman is seemingly uncaring and strong-headed. However, Haiyan thinks she's able to juggle her roles well, and thinks she's a good mother too.
There are definitely certain industries which females are more suited for. But I think they should participate more in building products since majority of the applications for social networking sites and e-commerce have mostly female users. Ladies are (generally speaking) more willing to interact with people, they are more emotional, and this presents a fit for many women to enter entrepreneurship. But Haiyan pointed out that most females are sacrificing their entrepreneurial dreams for the sake of the family and society. So if you come across a female entrepreneur, try to give them more support because it certainly isn't a very easy decision.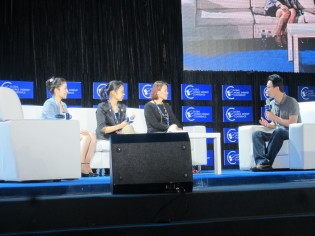 Hongyu thinks her gender does not come into play given her role as a CEO at Panguso. Moreover, she possesses a technical background, which makes understanding their product much easier. In fact, she prefers working with technical people because they are simple and straightforward. A lot of unnecessary communication is cut away, which makes working together much more efficient. But that also contradicts our innate need to communicate too.
Hongyu also spoke that the value of a CEO lies in the value of the team. She draws parallels between a screw in a building structure to the smallest role within a company. It matters. A female leader provides a more holistic approach to building of a culture within a team, given female need for communication.
Tina also spoke about females shouldering more responsibility in UX/UI design, taking up the role of a product manager. She cited an example, where her ex-employee went on to join Taobao. Apart from designing the product where it included general information, she added elements like horoscopes, which allows Taobao to understand the user even better. Females tend to pay attention to details, and men might think that our considerations are incessant. We show more empathy and are more sensitive towards the user, there is a better user experience, which makes the product even more reliable and preferred by users. I concur, but having a good mix of males and females within the team is even better.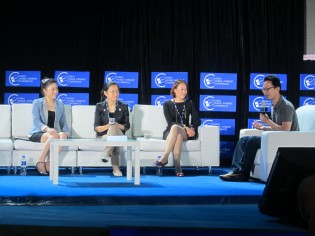 Hongyu also added that males are more focused on the technical details, where females are more aesthetically-inclined. Females are more concerned whether the application is easy-to-use and reliable, as compared to males.
Haiyan also hopes that the Chinese society would be open to the idea of having more females pursuing their career and entrepreneurial dreams, and not show biases towards them. They should be ditching favoritism towards males over females. This note was followed by applause from the audience, with myself included.
I don't really know how long this culture within China will take to change, but certainly we're seeing more women coming out to pursue a career instead of purely staying home to take care of the family. This is already an encouraging step here in China. I guess with these three ladies leading by example, perhaps, there will be more women inclined to take the entrepreneurial path in China.