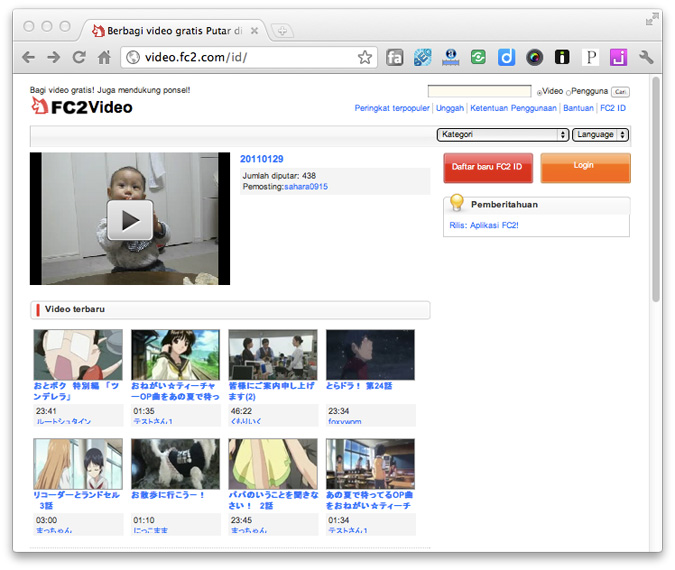 Heard of FC2 Video? I hadn't, but I know them now. FC2 Video is an online video streaming site similar to YouTube, and is apparently pretty popular in Japan. Alexa ranks FC2.com (including its full range of portals) the third most-trafficked website in Japan. Included in that is FC2's very popular blog platform, which comScore says is the country's leader in that space. And now the company's online video service has launched in Indonesia. It's good news for folks who enjoy watching and sharing mobile-supported videos.
After taking a quick look, FC2 Video has quite a lot of Japanese-related video content, especially anime. FC2 Video's Indonesian site looks very innocent with no 'adult' content. But if you switch it to the international version of the site, the adult option will appear on the top right hand corner, in very plain view. But we checked into it, and Indonesians will only get to see the localized site. So no porn surfing on FC2 Video for the Indonesians.
Oddly, FC2 Video for Indonesia seems to have no localized content at the time of launch – no local TV dramas or Indo-pop music channels to keep its new visitors amused. There's just a language localization lumped on top of its rather hap-hazard, mostly user-generated content. Aside from a bit of translation, I see no great effort put into this.
FC2 has high traffic, and I'm sure much of that comes from its porn content. I'm not sure what the company's plan is in Indonesia, but it'll be tough to monetize its video site without money shots, and without all the folks who usually pay for its adult content services via a monthly fixed subscription fee.
History has proven that it is tough to maintain and monetize a video streaming site — China's Tudou, Youku, Ku6 may be doing well in terms of traffic and users but they still have much to prove with regards generating revenue. While YouTube thankfully has the backing of Google.
Seeing this strictly from the business point of view, FC2 deserves a pat on the back for having the bravery to monetize through adult content. But it obviously can't do it in Indonesia with the country's strict laws. We'll have to wait and see how FC2 plans to monetize and localize its Indonesian site.