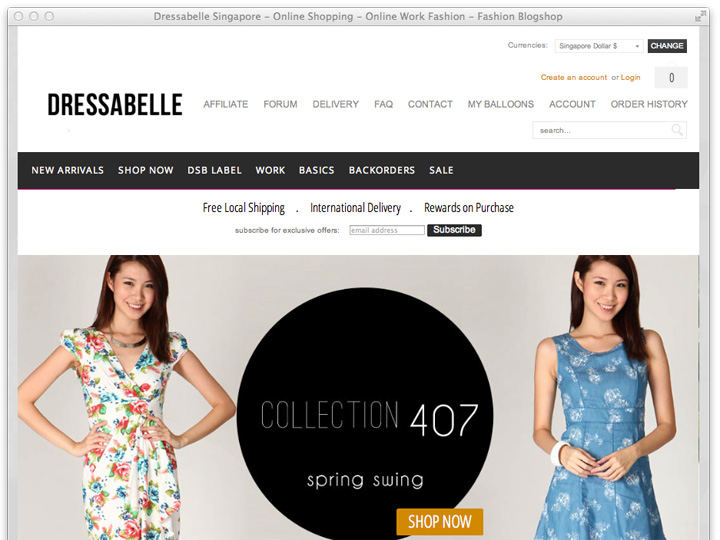 In an early morning announcement (1:44 A.M., my email says) Fatfish Internet has made an investment in Singapore's Dressabelle for 15 percent stake in the company. The investment sum was not disclosed.
Dressabelle is a blogshop turned e-commerce fashion site that claims it is on track to hit SG$2 million in sales this year, with presences currently in Singapore, Malaysia, and Thailand.
Dressabelle is part of the blogshop phenomenon that started around 2006 in Singapore. The young company performed well and transformed itself from a blogshop into a full-fledged e-commerce site with its own website domain equipped with login, shopping cart, and online payment. It is now ranked number 10 among the most-searched online stores in Singapore according to Google.
With the investment, Jeremy Khoo, CEO and co-founder of Dressabelle, says the company will expand regionally across Southeast Asia and will aim to triple its sales in the next 18 months. Lau Kin Wai, co-founder and managing director of Fatfish Internet, will take a board seat to advise the Dressabelle team on its expansion. Lau explained why he made the investment:
We have evaluated several e-commerce ventures in Singapore, and the Dressabelle team is one of the most outstanding teams we have seen. The Dressabelle team is very savvy with big data analytics and effective marketing technologies, which we believe would be an important differentiation in the coming battles in the e-commerce space. Besides, the Dressabelle team has a well oiled machinery of in-house fashion design, procurement and fulfillment processes to enable them to scale quickly.
There isn't a shortage of competition in fashion e-commerce in Singapore and across Southeast Asia. Besides other blogshops like Love Bonito and Agneselle, Dressabelle also faces stiff competition from Rocket Internet's Zalora.
(Edited by Charlie Custer)