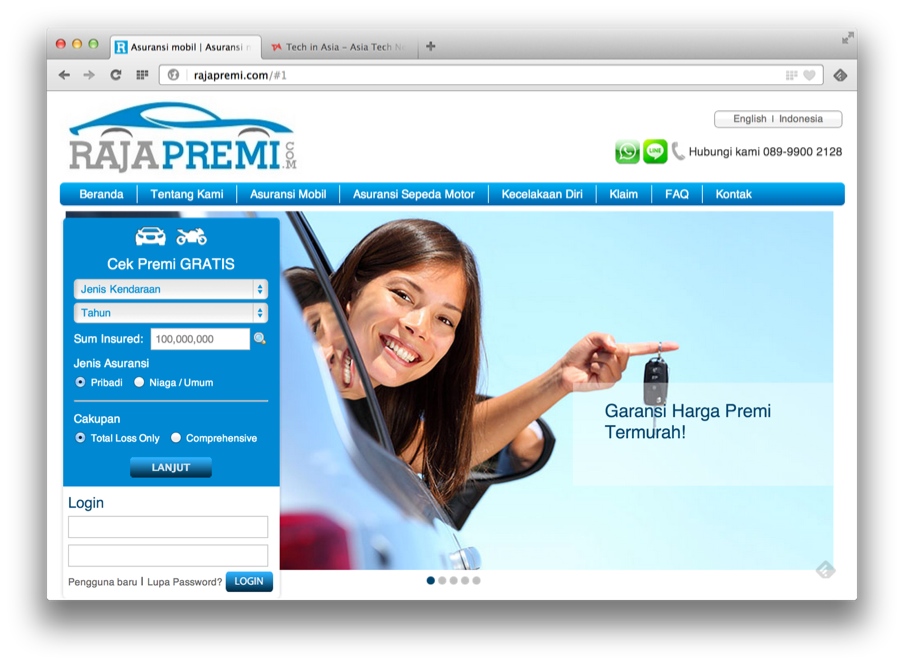 Singaporean startup meisters Fatfish Internet have made a move into Indonesia by acquiring, it is revealed today, a majority stake in car insurance price comparison site RajaPremi. Fatfish, which is a sort of Asian Rocket Internet wannabe, now owns 65 percent of RajaPremi, which is still in beta stage and only just started marketing its service a week ago in Indonesia.
The financial details haven't been disclosed, but the significant stake is Fatfish's first outside of Singapore. Earlier this month the group took a 15 percent slice of Singaporean fashion e-store Dressable.
RajaPremi promises Indonesian car and motorbike owners instant online insurance quotes from up to eight insurance providers, and claims to be the only such price comparison site that gives actual price quotes rather than just generic/ballpark figures. The new site has statistics for major providers such as MNC Insurance, Zurich, and ACA Asuransi.
(Updated: Fatfish Internet's Lau Kin Wai explains the appeal of the site to us: "We like the sector and this is a company we want to build up together with the founders on our co-entrepreneurship model, so we would want a majority stake at the early stage in order for us to treat it like a subsidiary that we can lend our full resources to.").
KW Lau commented today on its new acquisition:
We have evaluated several e-commerce ventures in Indonesia, but the RajaPremi.com opportunity is one of the most outstanding we have seen. The RajaPremi team is very savvy with internet analytics and equipped with strong backend integration software engineering skills, which we believe would be an important the space it is in.
RajaPremi is one very specialist startup that's part of the product search engine boom we've seen in Indonesia in the past couple of years.
The startup cites figures showing Indonesia currently has 60 million cars, many of which are uninsured, as proof that there's plenty of growth in providing guidance to confused netizens about auto insurance.
(Editing by Anh-Minh Do)