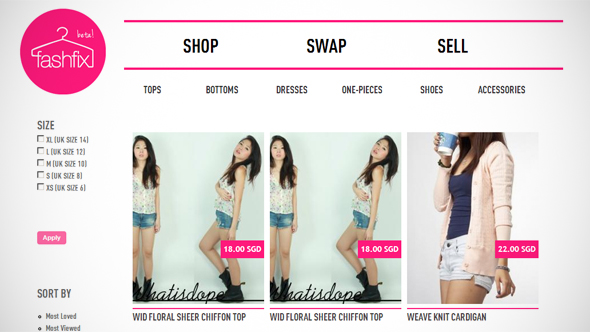 The saying goes that "one man's trash is another man's treasure". New Singapore startup Fashfix now wants to apply that concept to women's fashion.
Launched in October, Fashfix is a web platform that lets women buy, sell, swap, and resell their fashion items. For example, if a user wants to sell a $200 cocktail dress she may never wear again, she can list the item on the website and wait for someone to buy it. 
Women who spot the dress will be able to also swap the item with their own instead of buying it with cash. The swap feature will be unleashed by the end of October.
Think of Fashfix as a peer-to-peer rental and retail platform where instead of borrowing a tog or top from a shop, the item gets recirculated within the community. The startup takes a $1 cut out of every transaction to sustain itself.
Fashfix is similar to services like 99dresses and Threadflip. Its user interface bears some resemblance to Threadflip, in that it features items from tastemakers — fashion stylists, lifestyle bloggers, successful women — front and center.
Currently, Fashfix has over 600 members selling 800 items. The brands range from mass market brands like ASOS and Topshop to indie blogshop items from Love Bonito and Oh So Fickle to luxury brands like Prada and Marc Jacobs.
It has two women founders. Vivien Chia graduated with a double degree from business and law from the University of Hong Kong but opted out of a legal career to pursue entrepreneurship. Shazanah Hassan adds her creative and web design talents to the mix.
The team recently joined Ideas.Inc, a Singapore startup competition organized by Nanyang Technological University. It emerged in the top 15, securing SGD 15,000 (USD12,200) in seed funding.
Fashfix is an idea that could certainly work in Asia. Particularly in Singapore, Philippines, and Indonesia, there are enthusiastic fashion sellers and buyers on websites like LiveJournal and Multiply. Fashion-at-a-bargain will continue to have a huge draw.
So, whether they can successfully scale will depend on their ability to bring the local fashion community to their side and successfully get influencers to unveil their wardrobe on Fashfix. They'll also have to polish up their website's look and navigate the lack of convenient payment gateways in emergent markets.