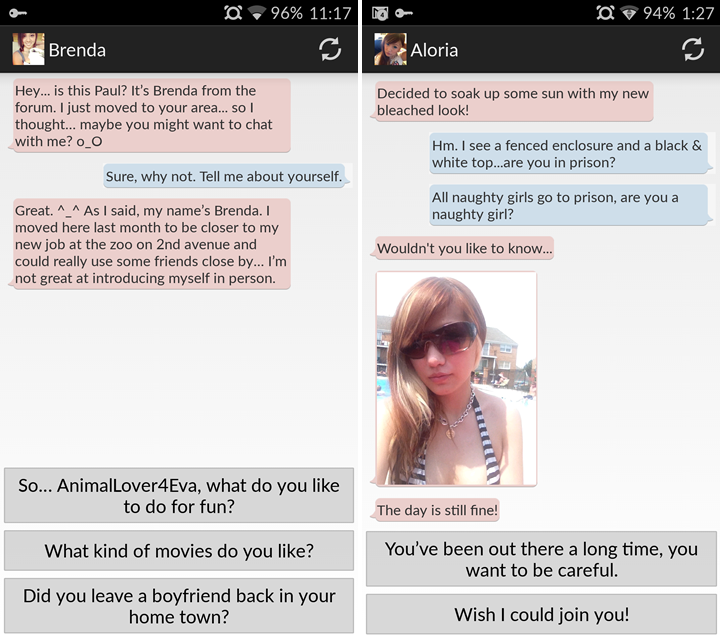 "There's a demand – a basic human necessity – for company," says Angus Cheng, founder of Baller Industries.
His Hong Kong-based startup earlier this year launched Phoney Girlfriend for Android. The fake female companion app has close to 8,000 active users and is adding 1,000 downloads per day.
The game looks like a chat app, but your available responses come in multiple choice dialogue options. It's a sort of messaging app that's been morphed into a text-based RPG. Users start out with two free girlfriends, with the option to buy more. To make the experience more realistic – and to make sure you don't rush into new relationships and complete the game too quickly – chats are spaced apart between time intervals.
One of your first girlfriends (you can have several at once) is Brenda, a nose-pierced beauty whom you met "on a forum." Brenda works at a zoo, and by the end of your correspondence with her, you find out that a nearby elephant released its bowels on her while she was cleaning the stalls and she dies a tragic death.
Obviously, the game isn't meant to be taken seriously, but Cheng says he's received feedback from users saying they felt real remorse about the sexy zookeeper. "I was almost brought to tears because phoney Brenda had died," remarked one user.
Baller Industries decided to revive Brenda on Twitter.
Finding your soulmate
The seed for Phoney Girlfriend was planted in Cheng's head back in 2008, when Facebook was crushing MySpace into the dust. Cheng really enjoyed Facebook, but noticed some of his friends did not. He found that those who didn't had news feeds "full of retarded stuff, FarmVille requests, moody jerks, and other lame stuff," he says. "I wouldn't like Facebook either if I had their friends."
He toyed with the idea of making a fake Facebook, full of fake friends, but realized he didn't have enough coding experience, time, or manpower to embark on such a project. Instead, he started bootstrapping several other games.
The startup's previous game is called Tokyo Hosto, a mobile role-playing game about host clubs in Tokyo. Cheng, who openly admits he isn't the best of programmers, says it was difficult to make because of so many different events and cues, and he spent the majority of his time making and tweaking data files. "I didn't really enjoy making these data files, and I thought, 'if only there was a simpler way, this game has so many different events and cues, I want to simplify it.'"
"It's tricky to make an automated system to make people feel not lonely," says Cheng. A novelist from England writes all the scripts for the girls, and he brought on voice actors from previous games he's worked on to record the audio messages.
And all those sexy photos? Cheng says he originally tried going through modeling agencies, but ran into problems with associating their images with the audio and text messages. Instead, his team started looking for pretty girls on Instagram and messaging them to ask if they would be willing to license their pictures for the app. This became rather tedious to do one at a time, but they soon found a more efficient way.
"There are tons of sleazy guys who have curated lists of sexy girls already," says Cheng. All his team had to do was find a pretty girl and look through her followers to find a a guy who had already accumulated a long list of attractive women, and there sat Baller Studio's pool of models to choose from.
See: Microsoft made a creepy robot that talks to you on WeChat, and Tencent just banned it
Choose your own romance
Cheng draws parallels between Phoney Girlfriend to the Oscar-nominated movie Her, in which a man falls in love with a hyper-intelligent operating system. While this is obviously an extremely dumbed down version of that, he has plans in the future to make the girlfriends respond to real-world events. "It's about telling stories and taking advantage of new media."
He compares the experience to choose-your-own-adventure genre of children's novels that were popular in the 1990s. "It's a genre which hasn't really made it to mobile," he says.
Cheng writes in his blog he would like the app to check the weather. "Then we could get the fake girlfriend to write 'Hey Jason Traish, it's going to rain later in the day, don't forget to bring an umbrella.'"
But Phoney Girlfriend has a ways to go before then. Cheng says he's planning an iOS version eventually, along with many more girlfriends and more languages. A Phoney Boyfriend could be in the pipeline, as well.
Cheng concedes that he's had trouble retaining users, but the conversion ratio among active players is strong – 5,000 girlfriends have been sold so far. However, he's mentioned on his blog that development on Phoney Girlfriend might soon come to a pause, and he will work on his other gaming endeavors in the meantime.