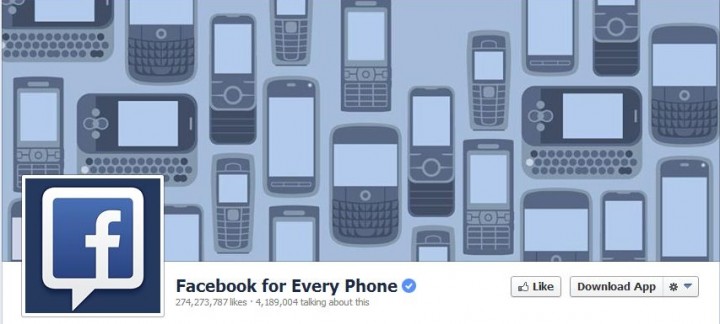 Facebook for Every Phone, an app that allows Facebook users to access their accounts through feature phones, launched two years ago. Today, the social media giant reveals that there are now more than 100 million people using Facebook For Every Phone each month. Of this global number, Facebook reports that millions of people in developing markets like India, Indonesia, and the Philippines are already relying on this to connect with friends on the social network.
Looking closely, Facebook has a huge user-base in Asia. In 2011 we reported that Facebook has 179 million users in the region. As of January this year, Asia already has more than 280 million users. The region now leads the world in terms of Facebook penetration.
Facebook in search of new users across Southeast Asia
So we've seen that Facebook is leading in the region. But there's a more interesting trend we've seen. Facebook users in specific Asian countries prefer to use their mobile phones to access the networking site. Plus, there's a huge number of Asian countries that still own feature phones. And this is where the Facebook for Every Phone app comes in.
A recent study on Facebook users in Asia by Jana shows that 67.99 percent of respondents in India prefer to access the site through their mobile phone. Earlier on, we reported how Facebook's VP for mobile Vaughan Smith anticipated this increase in Indian Facebook usage through mobile phones. And 77 percent of India's population is still using feature phones. It all adds up to a market that can't be missed.
Life beyond smartphones
In Indonesia, Facebook is also popular. Facebook partnered with Telkomsel to put this 'Every Phone' app on the telco's feature phones. From 35 million users in 2011, today Indonesia still ranks as the second largest market in Asia for Facebook with 48 million users right now.
The Philippines is also no different in this context. Facebook users in the Philippines are the most active in Asia, with users spending lots of time reading through their news feed, and posting statuses or updates, according to Jana. It also shows that 51.42 percent of Facebook users prefer to access the networking site through mobile phones. Like the two other neighboring countries, feature phones still lead the market, with 89 percent of Manila's population still tapping away on candybar phones.
It is also important to note that Vietnam is catching up rather quickly. It is currently the fastest growing Facebook nation in the world, adding around one million new Facebook users each month.
With feature phones leading in these markets in Asia, this could only mean that a huge number of Facebook users in these countries are mostly accessed through feature phones. This now makes Facebook for Every Phone a crucial application for the Asian market.
Facebook notes that the feature phone version of its app is not limited in terms of features. It includes Facebook's news feed, photos, and Messenger, and the ability to create a new account and find friends. The app is available on over 2,500 different phones. Feature phone users can download it here.
(Source: Facebook Newsroom, via The Verge)
(Editing by: Steven Millward and Anh-Minh Do)