We trust brands almost as much as we trust our friends, and this fact is working really well for brands on social media. Not only are a brand's Facebook fans more likely to buy its products and visit stores, they attract their friends to do the same too.
According to research and consulting firm Morpace, 68% of US Facebook users were more likely to buy a product or visit a retailer based on a positive Facebook friend referral. This might explain why 1 million fans could equate up to $3.6 million in media value for brands.
Majority Buy Based On Friend Referral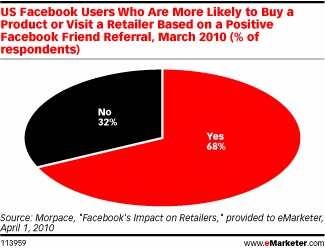 Facebook Fans: Industry & Race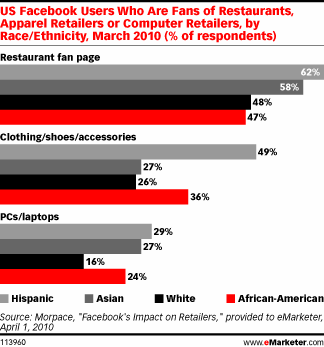 Other findings – on average, respondents were fans of 9 Facebook fan pages. White Users were generally less likely to become fans of brands, while it was the opposite for Hispanic users.
This is why Facebook is so great for business. It has a large audience and its fan pages are highly customizable. Another bonus is its "X number of friends are a fan of brand XYZ" feature, facilitating friend referrals. If you are thinking of creating a presence on Facebook through a fan page, check out how other brands do it here and here!
–
Source: eMarketer