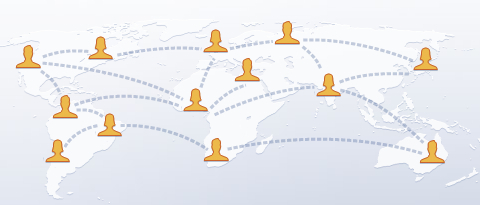 In an interview with BusinessInsider, CEO and founder of Facebook, Mark Zuckerberg, revealed three keys to Facebook's success. Catch them below.
Culture: Although it has several offices worldwide, the company still maintains the hacker culture, which was deeply ingrained in its formative days. For technology companies like Facebook, the hacker culture not only attracts high-energy and self-motivated talents, but it also promotes creativity. Speed is also essential. Decisions are made fast and features are surely developed in a very short time.
Risk taking: Zuckerberg often mentions risk taking as one of the driving forces of his business. For example, when News Feed was first launched, it suffered huge backlash. Instead of giving in to pressure, Facebook maintained its belief and monitored the situation. The data reflected that page views increased and people were spending more time with the introduction of News Feed. Clearly, majority of the users love the new feature, but many were still uncomfortable to see their friends' status updates and photos on their homepage.
Because of its risk taking attitude, News Feed became one of the core component of its product. But of course, risk taking also brought trouble. The introduction of Facebook beacon, unfortunately, wasn't that well received and the company, back then, was slow to react to the crisis until the world had explicitly stated its concerns over privacy infringement.
Employees: What make a company great are its people. And the key reason why great talents join Facebook is that it allows them to create a leverage impact. There are about 1,600 engineers in Facebook, managing over 500 million users. That's equivalent to one engineer, managing over 300,000 users!
Although only three keys to Facebook's success are listed above, there are certainly more to it. It isn't easy to create a business that is so huge and impactful like Facebook. Being a genius and hard worker aren't enough. We need luck, timing and more.
Another notable success driver is Zuckerberg's vision to make the world better connected. This vision is preached and acted. Unlike many entrepreneurs who care more about bucks, Zuckerberg cares more about building user base and giving them the best user experience. If you're a Facebook user, you can probably feel it too. There isn't any intrusive ads and every new feature introduced usually adds on to the quality of our experience. (Learn how great leaders inspire actions)
Lastly, while Zuckerberg builds, he contributes as well. It was recently announced that "Zuckerberg is launching Startup: Education, a $100 million foundation dedicated to improving education in Newark, New Jersey and the rest of the U.S. The ultimate aim is to create a model for rewarding excellence in education on a national level."
Catch the video featuring him and his $100 million foundation in The Oprah Winfrey Show.
Mark Zuckerberg on Oprah from Cindy W on Vimeo.
For skeptics, this contribution could be seen as a PR gimmick, especially when the movie, The Social Network debuts in a week's time. As the trailer suggests, the movie could paint a negative image of Zuckerberg. This 100 million donation could be a tactic to provide cushion for his reputation. But again, all these said are speculative. What's important is how the foundation can improve the kids' education in Newark.