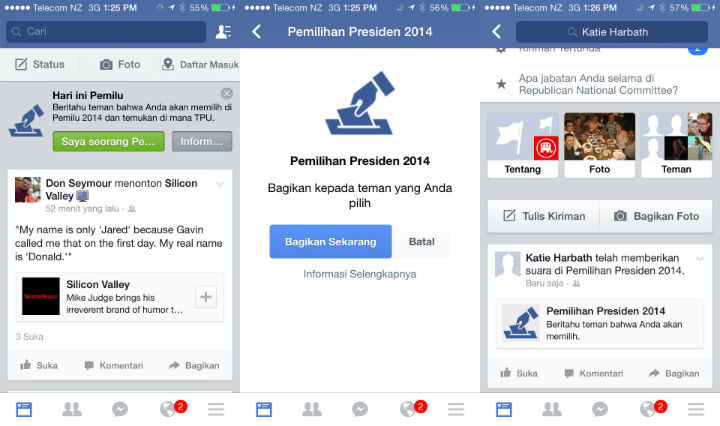 These days, everyone is curious to know the impact that the world's social networking behemoths have on political campaigns. Earlier this week, Tech in Asia ran a story on the nearly 100 million tweets related to Indonesia's presidential election that went out.
In response to the article, Facebook policy communications officer Andy Stone reached out from Washington DC today to share some interesting information about Indonesia's Facebook behavior during the country's chaotic, and at some points bewildering, presidential race.
See: What you need to know about the 95 million election tweets Indonesians sent in 2014
According to Stone, there are 69 million people actively using Facebook in Indonesia. The country had more than 200 million interactions on Facebook – including posts, comments, shares, and likes – that were related to the Indonesian presidential race.
Users aged 34 and under generated more than two thirds of the interactions. This information is particularly interesting because it not only illustrates that Indonesia's younger generation is taking more of a noticeable interest in political happenings, but it also shows that Facebook is in fact the dominant social media in Indonesia, a country that accounts for more than 15 percent of Twitter usage worldwide.
Facebook also took the liberty of deploying its digital "I'm a Voter" megaphone in Indonesia on election day, an action that reached nearly 18 million local users. This is the first time Facebook has used the megaphone in Indonesia. In affirmation of Facebook's dominance in the world largest archipelago, Stone explains that Facebook has more than three times the number of active users in Indonesia than Twitter does.
(UPDATE: Facebook does not charge a fee for the use of the megaphone tool as previously stated)