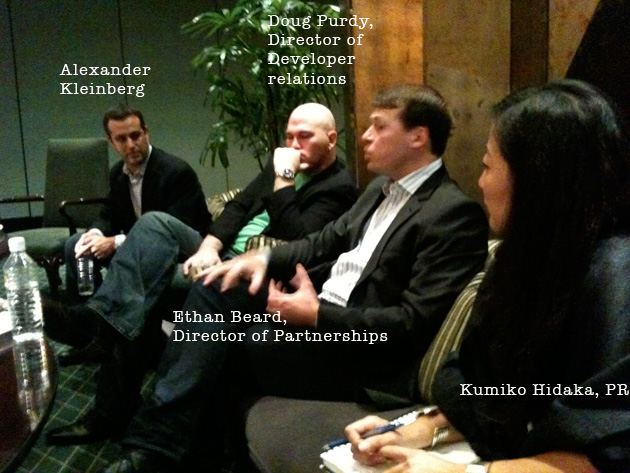 What's the function of Facebook's Singapore office? Well, it's pretty much still a sales office but it will now also focus on platform partnerships to help companies — both start-ups and big corporations — integrate/improve their products using Facebook, we learned today.
Alexander Kleinberg, Platform Partnership for the Asia region, says that he traveled around in several cities in an effort to reach out to developers across the APAC region. When asked about which emerging Asian markets have a strong community of developers, Kleinberg says that he is "impressed by the quantity and quality of the developers in Singapore."
I'm not sure if I would agree with that but that's just Kleinberg's opinion, which I respect. For me, I would say that Vietnam and India are places where one can find really technically capable people who are really building stuff and not hiding in a bank's IT department office. And from what I understand, some Japanese companies are certainly looking at Vietnam for more developer talent.
Anyway, back to Facebook: events like Facebook Garage, f8 Singapore, Seoul, and the upcoming f8 Tokyo are evidence that Facebook is reaching out to the developer community across Asia. I had a question for the people in the picture above: what took Facebook so long to set up a base in Singapore?
My fellow journalists and bloggers broke out laughing. Kleinberg smiled and explained that he doesn't know about the plans or timeline that Facebook had in the past to set up base here (he just recently joined after leaving Google Singapore). But he did explain that a lot of people don't understand that Facebook is still a relatively young company and it does take time and resources to put in place a dedicated team here in Singapore.
Alright that's fair enough.
My next question pointed to Indonesia — will Facebook set up an office there? Short answer: No. Long answer: Kleinberg explained that Indonesia has seen a huge growth of tech start-ups and enthusiastic developers. But for now, there are no plans for Facebook to set up an office there. Plus, he also did explain that Singapore is very close to Indonesia which is probably good for now.
Oh and one tip, I learned that Facebook is looking for a PR person based in Singapore. If you're interested, just head over to their jobs section and apply.