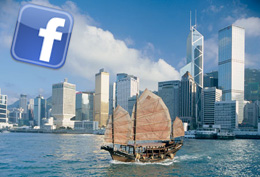 Facebook opened a sales office in Hong Kong, its second office in Asia. The office is strategically located to serve both the Hong Kong and Taiwan market.
Hong Kong has about 3.7 million Facebook users, with a 52 percent penetration rate while Taiwan has 12 million users with 52 percent penetration rate, according to Socialbakers.
The combined number of Facebook users in Taiwan and Hong Kong contributes to about 11 percent of the total number of Facebook users in Asia.
"With millions of people in Hong Kong and Taiwan using Facebook daily to connect with the people, brands, and causes they care about, Facebook provides a powerful combination of reach and engagement for advertisers," said Blake Chandlee, VP & Commercial Director, Asia Pacific, Latin America, and Emerging Markets in a press release.
"By continuing to build our presence in the region, Facebook will be able to directly provide full support to advertisers here and help them create and execute campaigns that will have a meaningful impact on their businesses," he added.
Despite a high Facebook penetration rate, Taiwan continues to grow rapidly at a 25 percent growth rate. In contrast, Facebook Hong Kong is growing only at 0.22 percent. Surprisingly, China, is also growing rapidly in users. We noticed that the number of Facebook users in China had grown to almost 700,000 within 4 weeks. Perhaps, Facebook's office in Hong Kong could potentially serve China in the near future.