So I noticed something interesting when I logged into Facebook today. I'm in Japan, and it seems that the social network has added a Disaster Message Board, which it is testing today and tomorrow (see the notification below). So for example, in the event of a disaster like last year's earthquake and tsunami, you can check on the safety of your friends.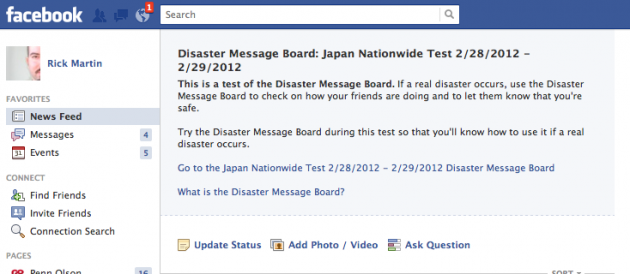 After seeing Facebook's message, I clicked through to check see what this message board looked like — and of course, to test it. As you can see below, users have the ability to mark friends as 'safe,' and also to declare that you're safe as well. You can also filter by city, school, workplace, or hometown, to find and mark other individuals who you know to be safe. You can also leave comments to let others know how that person is doing (which is particularly useful, even if that person is not so active on Facebook). You can also ask about a certain person you might be worried about, and their friends (who might not be your friends) can reply.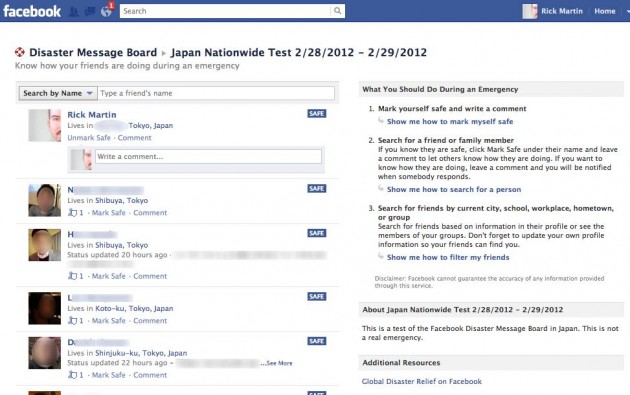 Of course, there are many reasons why one would want to withhold information, such as your workplace or location, from Facebook. This kind of system is one example where giving over at least a minimal amount of information could potentially be of some use.
The screenshots above are in English for me, according to my Facebook preferences. Japanese users will see the equivalent in Japanese, if that's their default language. For more information, you can check out the explanatory video that Facebook has provided on the message board page, which I have included below.
According to SocialBakers.com, there are approximately 6.8 million Facebook users in Japan right now, but it's growing at a strong rate. So it looks like it could be an effective tool — at least for the younger, digital generation. I'm not sure what Facebook's overall plan for this system is yet, but the generic URL facebook.com/about/disaster looks like it is something that can be used for disasters elsewhere too. Lets hope it's available to everyone, and lets also hope we don't have to use it.