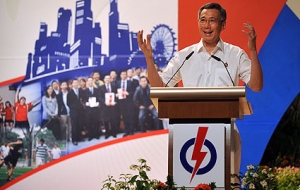 Singapore Prime Minister Lee Hsien Loong will participate in an interactive online chat via the People's Action Party's (PAP) Facebook Page this evening from 8 to 9pm, local time.
The aim of the chat, as explained by PM Lee himself, is to discuss various issues related to the general election and to give voters a direct communication channel. He also said that the Young PAP and cyber enthusiasts have encouraged him to set up this live chat to engage with Singaporean netizens.
Thus far the Singapore general election has been marked by an unusual amount of political participation on Facebook. The popular social network is Singapore's third favorite online source for information about the election (behind Yahoo and Channel NewsAsia), and ostensibly politicians have also recognized it as a valuable soapbox from which to campaign.
We have also reported about Nicole Seah's popular social media campaign, which is wildly successful despite the fact that she is only 24 years old. She had leapfrogged Minister Mentor Lee Kuan Yew to become the nation's most popular politician on Facebook, but was recently overtaken just by Minister Mentor Lee Kuan Yew thanks to a push from local blogger Xiaxue.