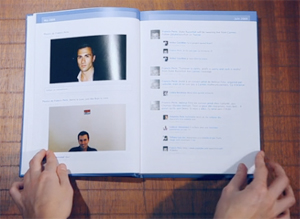 How should we boost 'like' count of a newly set up Facebook page? DDB Paris has a unique suggestion – create a real book out of Facebook. A Facebook application was developed to pull and organize relevant information from the user's profile to create the book. Unfortunately, only the first 1,000 submissions were accepted.
This creative idea has created hype amongst Facebook fans. Just after two days, the Bouygues Telecom's Facebook page received more than 15,000 likes. It currently has more than 21,000.
"Bouygues Telecom asked us to come up with an idea to launch their facebook platform. They wanted us to create something that would go beyond using your profile picture in a funny way, or pranking your friends with a small joke. We decided to look at the way we use Facebook and found that even though we use the social networking site everyday, we forget our favorite moments we share online. So we created an app that could change that, and keep your Facebook, in a book," explained Siavosh Zabeti on vimeo, who is one of the creative director who came out with idea.
This isn't the first application that could turn your Facebook history into a real book. Egobook is another alternative Facebook application. Check out the video below, in French.