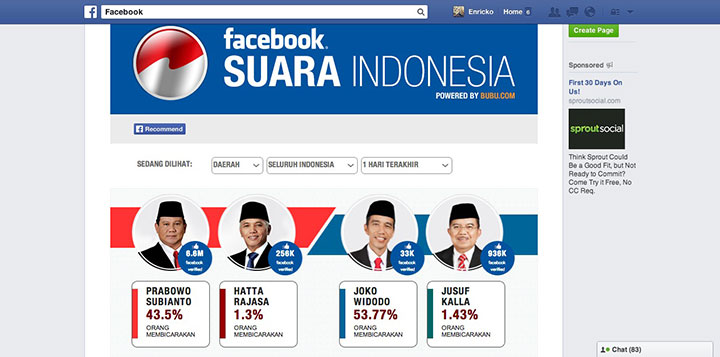 Election month is right around the corner in Indonesia as the country prepares to vote for its next president on July 9. Understanding the importance of this moment, Facebook (NASDAQ:FB) launched an election tracker called Facebook Suara Indonesia for a country that claims one of its largest user bases globally.
The Indonesian election tracker can monitor who's the most popular presidential candidate based on the number of mentions posted on Facebook. Users can check their popularity based on geographical data and time as well. Unfortunately, the tracker doesn't differentiate between positive and negative sentiments when people mention the candidates.
See: Finally, Facebook opens office in Indonesia
According to Facebook Indonesia head Anand Tilak, the country now has over 69 million monthly active users on the social network. The tracker is developed alongside digital agency Bubu, which believes that around 70 percent of conversations about the Indonesian general election happen on Facebook.
Indonesians are also heavy users of Twitter (NYSE:TWTR). Twitter revealed earlier this month that Indonesians have sent out over 42 million tweets related to the election so far.
Facebook also launched an election tracker in the run-up to India's election in March.