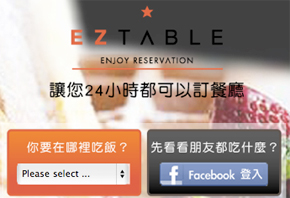 Founded in August 2008, EZTable is Taiwan's rock star start-up which has achieved great success in the country. It is now planning to expand to Singapore and Hong Kong this summer.
Simply put, EZTable is an online restaurant reservation site for diners. Every pre-booking is accompanied by information such as blog articles, transport and reviews for users to make a more educated selection. You can read more in our first article with EZTable.
For this article, we spoke to Alex Chen (陳翰林), CEO and founder of EZTable to find out more about his plans for Singapore and Hong Kong.
From what we learned, Chen hopes to launch EZTable Singapore and Hong Kong simultaneously this coming early July. Otherwise, he told Penn Olson that Singapore will be his first target for international expansion.
"EZTable aims at countries with mid-to-high end restaurants with educated and tech-oriented diners (frequent business travelers are even better). Without a doubt, Singapore and HK definitely fit our criteria," said Chen when asked on his decision over Hong Kong and Singapore.
To better serve the Singapore and Hong Kong market, Chen also plans to set up offices rather than working virtually. He believes that his main competitors are channels like telephone and paper reservation, which most restaurants are still using as part of their reservation process.
"As long as we can persuade traditional restaurants to replace their old stuff with EZTable's new toy, we can overcome everything," said Chen.
Like most food lovers, EZTable is picky over the restaurants that are listed on its site. Chen aims to gather only the top restaurants, as he believes that they usually understand how EZTable could help bring value and improve sales.
"We will use our experiences and case studies to show them how we've helped restaurants in Taiwan to achieve different goals and reach out to more potential customers," said Chen.
It's an exciting project for Chen and Taiwan's start-up community. Chen has shown how simple ideas can perform wonders. I believe EZTable success will also be a motivational story for many start-up founders in Taiwan. I look forward to meeting him in Singapore.
Connect on Facebook: