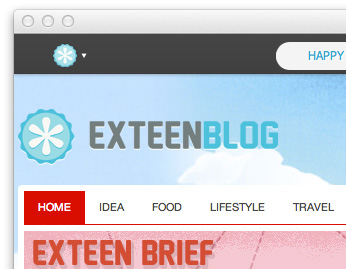 Exteen is Thailand's most popular content management system (CMS) for bloggers; it's like the WordPress of Thailand. Or at least that is what founders Patinya Sangiamchit and Teepagorn Wuttipitayamongkol claim. The growth of the company really has been quite impressive though. Today, Exteen generates 30 million monthly pageviews with over 600,000 registered bloggers. Over 100,000 bloggers are still actively blogging today and the number continues to grow.
Exteen was incidentally founded in 2004 when Sangiamchit and Wuttipitayamongkol were still college students. Sangiamchit wanted to build a CMS for his friends who love blogging, but met with some technical problems which Wuttipitayamongkol came in to crack. Three days later, the problems were solved and the first version of Exteen was born.
Sangiamchit and Wuttipitayamongkol are geeks and didn't know much about business or how to market a product. Thankfully, back then, there wasn't any CMS in the Thai language. Exteen was among the first CMSs tailored-made and localized for Thai bloggers; word spread and user registration shot up. By the end of 2004, Exteen has registered over 1,000 active bloggers despite the founders running the site part-time.
The young entrepreneurs graduated from Kasetsart University in 2006 and started corporate life while working on Exteen after work hours. By 2007, Sangiamchit and Wuttipitayamongkol recalled that Exteen had 50,000 active bloggers generating over 10 million monthly pageviews. Through online advertising, Exteen could bring in more than $30,000 revenue a year which is more than both of their combined salary and the company was profitable. Seeing the opportunity, Sangiamchit and Wuttipitayamongkol quit their jobs to run Exteen full-time.
Just last year, Exteen concluded its first financing round with an undisclosed "international ad network company." With investment coming in, Exteen expanded its team to eight people. With 30 million pageviews a month, Exteen today generates more than $150,000 in revenue and remains profitable.
Sangiamchit and Wuttipitayamongkol are eyeing expansion to other parts of Southeast Asia but couldn't share concrete plans with me yet. When asked about the most difficult challenges they faced over the course of eight years running the startup, the duo said that they wish Thailand's internet laws would protect platforms more. They explained:
An inappropriate comment or blog post written by users on Exteen could get us into legal troubles. But thankfully, there isn't any damage done so far.
In case you're curious how the name Exteen comes about, it basically means Extraordinary Teenagers. And perhaps it's apt to say that the founders have been equally extraordinary to have successfully operated the company for eight years and running.