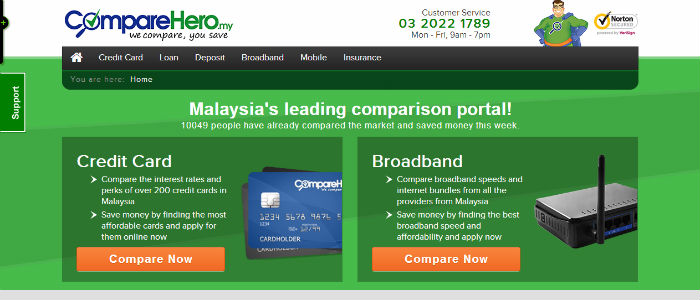 Comparing prices on loans is useful when planning your finances. Yet, this proves to be an arduous process since you have to manually go to providers and find out the details. In Malaysia, CompareHero wants to solve this problem by helping users make informed choices by comparing credit cards, loans, insurance policies, and even mobile and internet plans on a single website. In its first few months of existence, the site managed to help over 10,000 users.
CompareHero is a joint effort by managing director Gerald Eder (former co-founder and managing director of Zalora Thailand), managing director Floyd Sijmons (former head of strategic revenue management and planning at Groupon EMA), and chief content officer Zee Fakier (former Groupon's editor-in-chief). The site leverages in-house expertise of financial experts and seasoned content writers to complement their comparison services and maximize user experience.
At CompareHero, different deals can be sorted according to categories such as cashback, points, air miles, low interest, zero percent balance transfer, and more. Afterwards, the results can be further sorted according to user's preferences such as rewards, balance transfer, annual fee, and interest rate for credit cards. The site also provides FAQ, glossary, and guides on credit cards for the uninitiated.
Complex Malaysian market creates a need
Gerald Eder revealed that the idea stemmed from a personal discovery after he found that important financial information such as medical insurance policies are not readily accessible in Malaysia.
"The mere size and complexity of the market created a need for an easy-to-use comparison website to help consumers find the best available offer. It can be very difficult for consumers to find the right financial product among many providers, different products, intransparent information and websites," Eder said. Thus, the idea to create CompareHero and its potential to change lives in this part of Asia started to take root.
Monetization
While consumers can use CompareHero's services for free, the company monetizes their business by partnering with over 80 "trusted partners" such as Standard Chartered, OCBC Bank, Alliance Bank, and TuneTalk.com. CompareHero makes money from referring customers to its financial partners online. CompareHero can also earn money from the sales made from that introduction.
Future Plans
The site plans to aggressively develop their platforms across Asia, not just Malaysia. Future plans revolve around comparing many more financial products and developing comparison engines to also become unbiased sources of valuable advice regarding making important financial purchase decisions. Another plan from CompareHero is to execute serious content syndication and marketing escalation strategies to reach out to more Malaysians.
Another Malaysian financial comparison startup is iMoney, which compares home loans, credit cards, personal loans, fixed deposits, car insurance, and personal accident insurance.
(Editing by Enricko Lukman and Terence Lee)