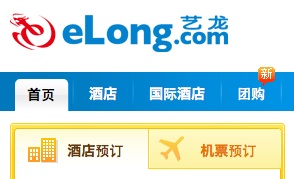 Expedia (NASDAQ:EXPE), the US online travel giant, has further increased its stake in the comparable Chinese site eLong (NASDAQ:LONG). It has done this by buying up the entire stake in eLong that formerly belonged to Renren (NYSE:RENN), the social media site. It was sold for approximately US$72.4 million, or $23 per ADS.
This increased investment strengthens Expedia's place as the largest shareholder in eLong (owning over half of it), with China's Tencent (HKG:0700) holding the second-largest stake at 16 percent.
In a joint announcement of the buy-out from Expedia and Renren, the latter emphasised how it'll still continue to work with eLong to provide travel deals for its group-buy site Nuomi.
Expedia's president and CEO, Dara Khosrowshahi, said that the company was delighted to be able to plough more into eLong, and added:
We have been very happy with the strategic and operational progress made by eLong […] Our early investment in eLong helped us build mutually beneficial commercial ties as well as generate strong returns for our shareholders.
Indeed, when we last looked at the Chinese travel site after its most recent quarterly earnings, we saw that eLong's revenue increased 19 percent in Q3 2011 compared to the same point last year.
Chinese search giant Baidu (NASDAQ:BIDU) invested $306 million in Qunar in June of this year, signaling that the online travel segment of China's thriving e-commerce industry was ready to expand in line with consumers' growing hunger for domestic and global sightseeing.