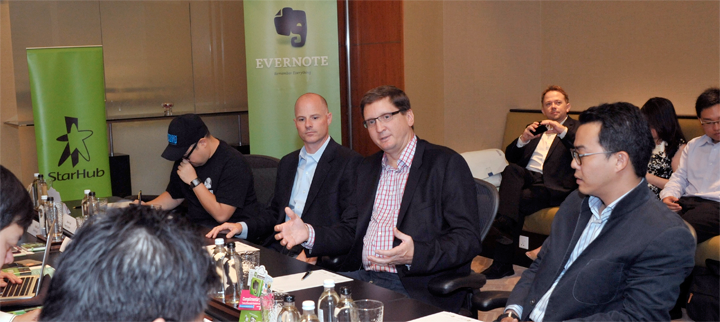 Earlier this morning, Evernote officially unveiled an exclusive partnership with Singapore's local telco StarHub (STH:SP) in a bid to expand its market penetration in Southeast Asia.
In today's media session, figures – though not explicitly disclosed – show an increase in user base since the previous Tech in Asia Meetup session in Bangkok, where the number in Southeast Asia has now grown to more than two million out of 66 million users worldwide.
This collaboration will see Evernote and StarHub offering a one year free Premium subscription (worth $45) to both new and the 1.12 million existing StarHub Mobile postpaid customers from today until August 21, 2014. In addition, StarHub's subscribers can enjoy a partner-exclusive new feature that has yet to be rolled-out globally – video notes. Users will be able to upload short snippets of footage and upload them via the Evernote app.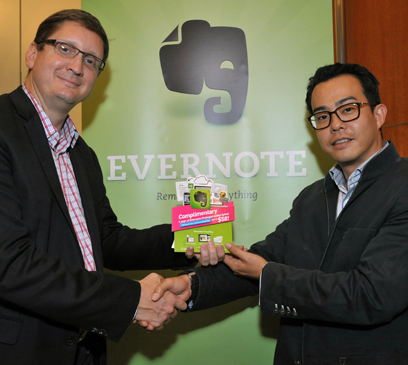 Evernote has plans for Singapore to be the showcase country for the region and the world. Ken Gullicksen, COO of Evernote, describes the country as an attractive hub with one of the most productive economies in the world.
Singapore was also revealed to be one of Evernote's most successful markets in terms of penetration. It has the highest usage density of over 400,000 users. In fact, a typical Singaporean user is said to use Evernote an average of five times daily, with each session spanning about 15 minutes.
In addition to the core Evernote app, apps such as Evernote Food, Skitch and Penultimate were said to be significantly more popular in Asia than other parts of the world. This certainly does not come as a surprise as food plays a huge part in Asian culture, and Penultimate can alleviate troubles in character-based countries where typing Asian characters into devices can be very tedious.
Stephen Lee, head of StarHub's i³ (pronounced as i-cubed), also strongly emphasized its aim to offer added value to their customers, especially in terms of productivity and innovation. Education is a vertical focus and target market of of StarHub, making collaboration with Evernote relevant because it would help users reap productivity benefits while utilizing the app. i³ also aims to leverage on the developer ecosystem in Singapore to create more innovative products built on Evernote's API.
StarHub's collaboration with Evernote is not the first in Asia. Previous collaborations and initiatives in the region includes partnerships with NTT Docomo in 2010 and Taiwan Mobile just last year.
(Editing by Paul Bischoff)