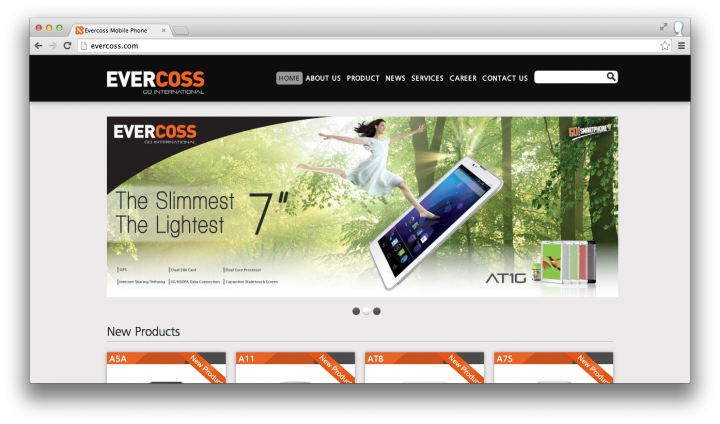 While handset manufacturer Evercoss doesn't sell the kind of high-end phones that turn heads, the company can proudly say it is still the biggest local handset manufacturer in Indonesia. According to Indonesia's trade ministry, Evercoss sold 16 million handsets last year, which means about 1.5 1.3 million handsets were sold every month.
Evercoss sells low-end phones and tablets, the most expensive one being an IDR 2.5 million ($226) tablet called AT8. The Android smartphones the company sells are all sold below the IDR 2 million ($180) price point so "people can afford it" says A. Irwan, the COO of Evercoss.
Targeting low-end consumers
Evercoss targets Indonesia's average consumer. They are low-end users living in district areas, not in big urban cities like Jakarta and Bandung. These people, according to Irwan, buy gadgets because they need them, not because of lifestyle demand. This "need" has evolved from just sending SMS in 2008 to listening to FM radio with phones, then music, TV, Facebook, and now chat apps like BBM. Naturally, Evercoss' phone specifications and marketing evolve according to users' needs.
70 percent of its market share comes from Java island and 10 percent from Sumatra island. So far 60 percent of all phones sold are feature phones.
Committed to quality
Although the company sells cheap phones, Evercoss takes quality control management very seriously. Irwan was quite proud to say that Evercoss's backbone is actually its service department. They allocate about 200 people to stand by in the headquarters and office branches to help with gadget service everyday.
Evercoss ensures that the percentage of "defect on arrival" is below one percent, and the percentage of total phones serviced every year is two percent. All spare parts used by Evercross are genuine originals. In total the company has 18 service centers and 57 authorized service centers located all around Indonesia.
This commitment helped grow the team from 17 staff in 2008 up to 500 today. Evercoss does not open any retail stores, but the team is very aggressive when it comes to marketing efforts. One recent example is how Evercoss became one of the main sponsors for singing TV show Indonesian Idol.
Rebranding effort and expansion plans
The limit on gadgets a company can import is based on the number of gadgets Evercoss produces in its native country of Indonesia. So to keep on increasing the number of imports and meeting its users' demands, Evercoss must start producing its own phones.
In that regard, Evercoss is now building an eight-hectare gadget factory in the city of Semarang, with another five-hectares of empty land next to it in case the company wants to build more factories. The factory – which cost IDR 1 trillion ($90 million) – will start operating next year. By the time the factory opens next year, Evercoss will have an ample number of phone units at its disposal. To make sure the team can sell as many as they create, Evercoss has set its sights on 10 countries in Asia, the first being Malaysia.
Before the company's rebranding in September, Evercoss was widely known as Cross Mobile, but that name is unavailable in other countries. The team will keep doing what it does best in other markets: targeting low-end consumers.
In the early stage, the factory will be able to produce 500,000 to 600,000 phone units every month, but Evercoss will keep importing 1.5 million phone units from China as usual.
Competition in Indonesia
Evercoss' biggest local challenger here is most likely Mito, which aims to sell up to three million gadgets this year. Irwan notes that Advan's aggressive push in Indonesia's smartphone market is one that they are paying close attention to. Other local handset manufacturers worth mentioning are Tiphone, Cyrus, Polytron, and Tabulet.
(Editing by Paul Bischoff)
---
This post was originally published on our new Indonesian site Tech in Asia ID, which you should totally bookmark and follow on Twitter and Facebook now.